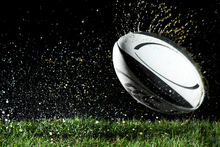 A former detective has been sentenced to home detention for defrauding a national sevens tournament of $64,000.
Richard Edgar Anderson, 51, of Lake Hayes, who is now a real estate agent, was a founding member of the organising committee which hosts the annual Pub Charity New Zealand Sevens in Queenstown.
He was sentenced in Queenstown District Court today to 10 months' home detention and ordered to pay $48,601 reparation within two years.
At a sentencing indication in July, the details of which were suppressed until today, Judge Michael Turner said Anderson had abused trust placed in him and tarnished the reputation of the event organising committee.
"People put their faith and trust in you and you abused it in a gross way. You did so for your own personal financial gain.
"You [deprived] sporting youth of this area of significant funds, you cast doubt over the integrity of the entire Sevens with Altitude committee."
Anderson was authorised to incur costs relating to the tournament then claim for reimbursement from the committee. He was was also authorised to accrue airpoints.
However, in December 2010 when Anderson presented an invoice to the committee purporting to be from the Mecure hotel for accommodation for the 2011 tournament, the treasurer noticed a "sizeable increase".
The committee also received a 10 per cent commission on the accommodation, part of the money paid to Otago country rugby. Anderson sent a tax invoice on Sevens letterhead to the hotel for $11,289.40 - the 2009 booking commission refund - and four days later emailed a new tax invoice in the same amount to the hotel, requesting the money be paid directly to him.
He banked the money and none was received by Sevens with Altitude.
Anderson was confronted with the evidence on February 12 this year at a committee meeting and admitted the offending.
Anderson had since made some reparation payments but $48,601 was still outstanding.