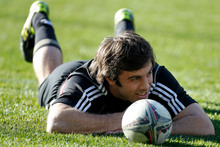 For Conrad Smith, training today in Wellington was another step towards a return to the All Blacks following his eye injury. But for Daniel Carter it was a journey back to the dark days of last year's World Cup injury.
It was at Rugby League Park in Newtown that Carter ruptured his groin during kicking practice ahead of the All Blacks' final pool match against Canada and he quickly acknowledged the occasion in a tweet. "Finished first training of the day. Same place as I injured my groin last year #badmemories."
It was a significant day too for Smith, back preparing for Saturday's Rugby Championship match against Argentina in Wellington after missing the two Bledisloe Cup matches against Australia with a detached retina. His experience and talent will be crucial as the All Blacks look to shore up the hole left by the departed Sonny Bill Williams, who had brought a new level to his, and the team's, attack this year.
Although the All Blacks should contain too much quality to be unduly troubled by the Pumas, there will plenty of interest in how Ma'a Nonu performs back at second-five in place of Williams, who is in Japan.
Rusty for most of the season with the Blues, Nonu didn't play at all in the three-test series against Ireland in June and wasn't at his best at centre in the two games against the Wallabies.
The Nonu-Smith combination, so polished for the All Blacks over the years but also for the Hurricanes and Lions in Wellington - before Nonu's move to the Blues - will be reunited at Westpac Stadium. It will be the first time they have played together since the World Cup final.
Assistant coach Ian Foster said he was confident Smith could cope easily with the return to international rugby, saying the break had done the 30-year-old good.
"He's a quality player, I've said earlier that I think he was the best player in the country in Super Rugby. To have him back and looking fit and strong is great," Foster said.
"He brings lots of leadership. He brings a lot of experience to the decision-making part of the game, particularly in the backs, and he and Ma'a getting back together again after a while could be quite interesting too."
Aaron Cruden, who took over from Colin Slade against the Pumas in the World Cup quarter-final (before he too succumbed to the jinx of the No10s in the final), said the replacing of Williams should be relatively straightforward.
"You've got a world class player in Ma'a Nonu taking back his No12 jersey so I think it's going to be a pretty smooth transition," Cruden said. "I know Ma'a is really excited about the opportunity he's going to get this weekend and especially that combination with him and Conrad Smith potentially being reformed in the midfield will be great."
Much of the pre-match talk about the Pumas, who arrived in the capital last night looking extremely weary, has been about their traditional forward power but Foster said they could be a difficult team to get through.
"Defensively they've been quite a hard nut to break and you look back at the World Cup last year and their games this year and they've been a very strong defensive team. Their backs are certainly very clued up in that area.
"In attack they've probably got a limited formula but they'll still try to use the ball if we give them too many soft opportunities. We've still got to be on our game."
- APNZ
By Patrick McKendry

Email

Patrick