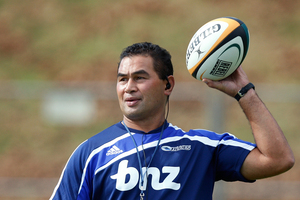 Pat Lam could become a Blues assistant. Photo / Brett Phibbs
The Blues are quietly sounding out future coaches but any new set-up could still feature Pat Lam in a different role as part of a bigger team.
The Herald on Sunday understands that Lam has been told by the Blues board that they are almost certain to advertise the head coach job at the end of the season.
Usually that would signal Lam's involvement coming to an end, but a major rethink on the overall coaching structure of the franchise could yet keep the former Samoa captain with the Blues.
Multiple scenarios are being explored but the one that might gain approval is for the board to retain Lam as an assistant and bring in a heavyweight, experienced coach to oversee selection and strategy and effectively operate in the current head position.
A character of similar standing to Wayne Smith would be ideal but that would most likely require the Blues to look offshore.
"We are definitely looking at that [future coaching structure]," said Blues chief executive Andy Dalton.
"That will be formalised in the review. Coming into the pre-season, we felt we needed more assistance for Pat and Bryce [assistant coach Woodward], so we brought in Jeff Wilson as [part-time] skills coach. The structure is definitely part of the review."
Lam and Dalton have been meeting regularly to analyse this year's dismal campaign and to discuss plans for the future.
Publicly the Blues board insists nothing will be determined until the end of season review is complete but privately Lam has been told, and accepts, that he's unlikely to review well and the outcome will be for his job to be made contestable.
With that outcome seen as inevitable, the Blues board is believed to be drawing up a list of potential candidates.
The New Zealand Rugby Union is also believed to be talking to the franchise and has made it clear it will take a central role in the review and appointment process.
Despite the failings of this year, there is a reluctance to dispense entirely with Lam. He took the Blues to the play-offs last year and has shown some qualities since taking on the job in 2009. He is a believer in adversity shaping people and could emerge from the carnage of 2012 a wiser, better coach. His skills may be better suited to being a hands-on forwards coach, where his technical expertise could be used.
If he was to work alongside an experienced head coach and another experienced assistant who had charge of the backs, the Blues would potentially be better equipped to succeed.
Having seen how well the likes of Smith and Steve Hansen were able to go from being head coaches to assistant coaches, Lam is understood to be willing to accept a similar fate.
The radical progress made by the Chiefs this year has shown that heavy investment in a quality coaching team has merit. The Chiefs were prepared to dig deep financially to accommodate Smith. Their set-up with four full-time coaches is being viewed as the potential new blueprint for the Blues.
The NZRU pays the salaries of the head coach, assistant coach and team doctor. Any additional staff have to be paid for out of the franchise coffers. Lam's fate may now hinge on the willingness of the Blues board to find the money to attract a heavyweight mentor.
If the budget isn't there, it's likely the Blues will dispense entirely with Lam. Even if they do expand the coaching team, the NZRU may now be worried that Lam's record is so tarnished by this season that he can't be retained in any capacity.
The improvement at the Chiefs make a strong case for the Blues to make a similar investment. Smith as technical director is part of a team that includes head coach Dave Rennie and assistants Tom Coventry and Andrew Strawbridge. It's a unit that has enabled the Chiefs to get their initial selection right; to vastly improve their set piece, defence and attacking patterns and also execute the micro-skills with unprecedented accuracy and consistency.
This compares with the Blues whose game has collapsed to the point where none of their basics, other than their scrum, have performed: their lineout has been a shambles; their kick-off receipts have been poor and their defensive line one of the most porous in the competition.
Lam's name continues to be linked to offshore jobs but he is thought to have given assurances to the board that he is not actively looking for another job. He'd prefer to reach August and take his chances. His first choice is to stay in Auckland and help the Blues rebuild - even if he has to accept a lesser role.