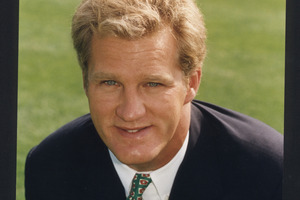 Doctors have told Wallabies great Michael Lynagh he "dodged a cannonball" after surviving a rare and potentially lethal stroke which has severely limited his vision.
An emotional Lynagh fought back tears yesterday as he thanked family, friends, the rugby fraternity and fans for the overwhelming support he'd received after being discharged from the Royal Brisbane and Women's Hospital.
The London-based former Australian captain, one of the Wallabies' best five-eighths, suffered a massive stroke on April 16 shortly after arriving back in Brisbane to catch up with friends.
A split wall in an artery in the back, right-hand side of his neck caused the stroke which neurologist Dr Rob Henderson said was rare in a fit person of Lynagh's 48 years but often fatal.
Dr Henderson said fluid around the brain stem in the days after the stroke had specialists on the verge of taking out some of the skull bone to reduce swelling.
Speaking clearly and coherently and looking fit as ever, Lynagh admitted he was finding it hard to cope with the 45 per cent lack of sight on his left side but was extremely relieved with his early rehabilitation.
"I understand how lucky I am," he said. "I'm just very, very fortunate.
"As Rob said to me, 'you haven't just dodged a bullet; you've dodged a cannonball'."
Dr Henderson said there was no evidence that Lynagh's top-line senior rugby career over 16 years had prompted the stroke.
As well as the father of three has recovered, the doctor admitted Lynagh's full vision might never return.
"It's amazing he's done as well as he has," he said.
"It's a rare event and, in most cases, people can't stop it.
"Everyone was very worried. We've been there before where we've seen people not make it back from that sort of stroke."
Lynagh, who will continue therapy in Brisbane for the next three weeks, said he hoped he could be a role model for other stroke victims.
- AAP