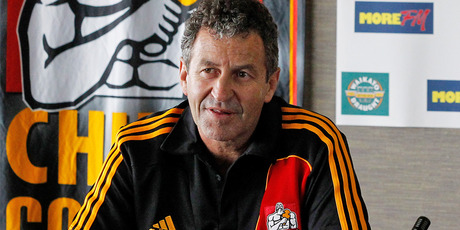 Wayne Smith has ruled out becoming Blues coach, for now, saying it's not the right time to leave a Chiefs side that has made a good start to the Super Rugby season but hasn't achieved anything yet.
Smith turned down an offer overnight to join the England setup under Stuart Lancaster and said the thought of coaching against the All Blacks as well as remaining close to his aging parents and other family were principal reasons for his decision.
The 55-year-old, who helped guide the All Blacks to last year's World Cup, seems a natural fit to take over from Pat Lam at the end of a dismal Blues season that has so far resulted in only one win this term.
But Smith reaffirmed his commitment to the Chiefs, where he is working alongside head coach Dave Rennie and together they have guided the Chiefs to the top of not only the New Zealand conference but also the overall ladder.
"Long term that might be an option [to go to the Blues] but we're not that good at the Chiefs that we can just up and leave and do other things,'' Smith told Radio Sport.
"We are trying to create something special here and that's where a lot of my focus is.
Our challenges are like the Blues' challenges so I already have what I see an important job here.
"I'm loving the Chiefs. I'm hugely committed to this team. I love the players and the coaching setup and the coaching team. I think we've got a chance to create something special so that was actually part of my decision-making process. I have got an existing contract with them, albeit I could have got out to go and coach someone like England but in the end I didn't want to, so I probably don't want to go and coach anyone else.''
NZRU chief executive Steve Tew said they would do "everything'' to keep Smith in New Zealand rugby and the pair are yet to have detailed discussions. Smith said a role at the Blues had not been discussed.
"I'm yet to really do anything with the NZRU,'' he said. "That's in discussion about me wanting to stay at the Chiefs. So clearly the Chiefs come into that equation as well. I've got a job for the next year and I'm pretty comfortable that the NZRU will help out with something and I'll be contributing at some level to New Zealand rugby.
"I just wanted to get this decision made on the back of how I was feeling rather than so much what I'm going to be doing and that detail will come later. I know that they [the NZRU] are very supportive of me and I really appreciate that and so do my family.''
Smith admitted the temptation to join England was a "strong'' one but he would have struggled to coach against the All Blacks.
"When I finished with the All Blacks, I was on a high and I really enjoyed the international scene and the contest at that level. For a competitive person it's the ultimate. I was really enjoying it and wanted more of it.
"This decision probably means that option is gone. I've made a philosophical decision about where I want to be for this part of my life. This is it and I'm pretty happy about it.''
- APNZ