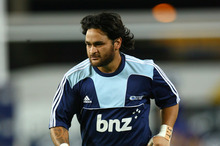 There may be a subliminal Churchillian message behind the Blues' decision to reintroduce Piri Weepu as halfback.
Like the World Cup last year, when Weepu's play provoked "Keep Calm Piri's On" T-shirt messages which imitated World War II posters.
Blues coach Pat Lam has reintroduced Weepu for tonight's game at Eden Park against the Reds after a three-game substitute stretch and ongoing struggles to shed 5kg.
Weepu has been involved in every game this year but this is only his third start at halfback in nine matches after bouncing around the subs bench and one start at five-eighths.
"There is no doubt he is world-class," Lam said. "It was just about him getting to the stage where he could do it consistently on the field."
Statistics showed improvements on and off the field and further work this week convinced Lam to start his World Cup star in what should be an engrossing positional duel with Will Genia.
"Piri did a great job last year. We saw him dominate a bunch of games in the World Cup last year so we all fear that capacity's there," Reds coach Ewen McKenzie said.
His team had suffered through their volume of injuries, they were the defending Super 15 champions but had a mixed four wins and four defeats sheet this season.
He predicted tonight's contest would have a great deal of ball movement and high workrate.
The Reds have reclaimed Digby Ioane from suspension and picked Liam Gill as part of a twin-flanker force to match the Braid brothers at the Blues.
The visitors might want fewer scrums although the Blues have lost an edge with test loosehead Tony Woodcock missing after he damaged a hamstring at midweek training.
He has been replaced by Tevita Mailau.
"People might say losing Woody takes away our dominant scrum but that has not transferred into victory for us this season," Daniel Braid said.
The one-time two season Reds flanker said the Blues' key to victory had to be in their physicality.
"We have got to fire up and send them backwards so that Genia does not operate so well and their forwards are not allowed to take the ball flat on the gain line."
The Blues have rested Chris Lowrey and Benson Stanley but reclaimed Rudi Wulf from the injury roster to return to work on the left wing.
They lie last in the New Zealand conference with a solitary victory and will miss the playoffs but Lam said there was no quit in the squad.
They had a senior army officer in to talk to the group on Anzac Day and sacrifice and no surrender would remain the team credo in every one of their matches.
By Wynne Gray

Email

Wynne