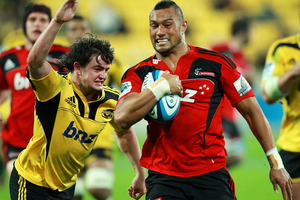 Hurricanes 14
Crusaders 42
The Crusaders produced the perfect present for milestone man Dan Carter tonight in thumping the injury-stricken Hurricanes 42-14 at Westpac Stadium in Wellington.

Playing in his 100th Super Rugby match Carter delivered a controlled, slick performance - which included his 30th try at this level - though that was only a small part of the story behind a reinvigourated Crusaders machine, which was back to its devastating best.

Four first half tries put the match out of reach for the Hurricanes who struggled defensively against the attacking threat of Carter, Dagg, Fruean and Guilford.

Eleven of the Crusaders starting 15 have All Blacks experience and their talent and class across the park proved too much for an error-ridden Hurricanes line.

It was the fifth win in eight games for the visitors who now leapfrog the Hurricanes in the standings and are poised to launch an attack on the top four.

The result was a home disappointment for the Hurricanes, who had Cory Jane and Julian Save'a ruled out with injury, and missed early chances to get points on the board with two off-target penalties.

Carter once again played outside Tom Taylor in a repeat of the pairing that worked so well against the Stormers, with the deadly accurate Taylor once more preferred for kicking duties.

The Crusaders opened the scoring in the fifth minute when Zac Guilford showed great strength and speed to burst through the Hurricanes line before offloading to Kieran Reid who touched down infront, setting up an easy conversion for Tom Taylor.

A Crusaders penalty increased the lead to 10 before Dan Carter celebrated his milestone match with a trademark well timed run down the left flank, before scoring a try that Taylor converted.

Taylor increased the lead to 20 points before a sensational individual try from Robbie Fruean completely silenced the home crowd.
Fruean climbed high to pull down a bomb in midfield and burst through several Hurricanes players before running 50 metres to dot down with Taylor adding the extras.

The Crusaders picked up a bonus point the 35th minute when Dagg broke free on the left flank for the Crusaders fourth.
Andre Taylor got the home side on the board just before halftime with a fine individual effort. The Hurricanes muscled the ball to within 10 metres of the try line before freeing up Taylor who threw a dummy and stepped two defenders before Beauden Barrett converted.

The Hurricanes came out flying in the second half and Victor Vito produced the start they needed when he barged over the line from close range following a penalty, with Barrett converting.
Taylor added another penalty for the Crusaders before Dagg got his second, exploiting a numbers advantage out wide to stem the Hurricanes short spell of domination.