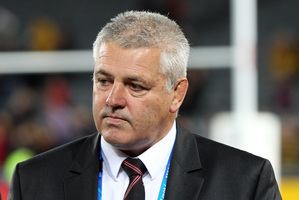 Rob Howley has been named as Wales caretaker coach for their three-test tour of Australia in June to allow Warren Gatland further time to recover from the leg injuries he suffered in a fall at his New Zealand home on Easter Monday.
Gatland fractured both heels when he fell from a ladder while cleaning windows at his Waihi Beach property.
Howley will also be in charge for Wales' June 2 clash against the Barabrians at Millenium Stadium in Cardiff.
The Welsh Rugby Union said: "Rob Howley will have full control of all aspects of team preparation and selection as he takes charge of the existing management and coaching staff with immediate effect. Gatland has declared his full approval of the decision which was taken during discussions with WRU group chief executive Roger Lewis about his prognosis for recuperation and recovery over the weeks ahead."
Gatland said: "Although I am devastated to be away from the action I am delighted that we have someone of Rob's calibre to take charge in my absence.
I have talked through all the potential scenarios with Rob Howley and Roger Lewis, but the medical advice is clear and cannot be ignored.
"I will not be ready to take charge of Wales for the international against the Barbarians and if I recover enough to get to Australia during June I am still unlikely to be mobile enough to play a full coaching role.
"It has been difficult to accept that advice, but it just makes me more determined than ever to get back into the driving seat with Wales later on this summer as we prepare for an Autumn series which includes games against New Zealand and Australia."
Howley was one of Gatland's first appointments when he took charge of the Welsh coaching set-up in January 2008.
He won 59 caps for Wales and captained his country on 22 occasions.
Speaking on his new appointment, Howley said: "I will give 100 per cent of my effort to ensuring we are fully prepared to meet the challenges and take the great opportunities which lie ahead in this summer series.
"We will be working to secure victory against the Barbarians after the defeat we suffered last year and the Tests in Australia are an opportunity for us to deliver a win in the southern hemisphere.
"Along with the rest of the coaching team I am immensely proud to have been offered this opportunity and we will give our all until Warren is ready to take full control again."
- APNZ