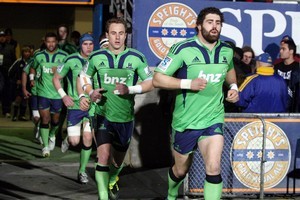 The Highlanders launched their new rugby jersey tonight as they ran out to face the Force in their last ever game at Carisbrook.
Gone are the traditional blue, gold and maroon colours replaced with lime green.
The strip is completed with blue shorts, with lime green stripes down the side, and light green socks with a black bar at the top.
The side will wear the new strip next season but will switch back to their original colours for the final two games of the regular season.
The new jersey is part of a fresh start for the Highlanders who are due to move into Forsyth Barr Stadium at the end of the year.
Highlanders general manager Roger Clark told the Otago Daily Times earlier in the week that the new jersey was about establishing an identity for the Highlanders.
"Tradition is not about 16 years. Tradition is about 127 years of provincial unions and the blue and gold of Otago, the maroon of Southland and the purple and gold of North Otago.
But we need our own identity to revitalise the Highlanders. We have history, but not tradition.
"I'm not surprised about the concern about the change. We're a pretty conservative lot down here. But does it faze us?
"No, we're still prepared to push on with the changes ...
"If we didn't make those changes then we were going out the back door fast."
nzherald.co.nz will have a match report and images of tonight's clash at the conclusion of the game.
- HERALD ONLINE