A year ago, the Pt Chevalier Pirates were dog tucker. The third division league team were at the bottom of the table and were lucky to finish last. But this year, well, the results have been a little different, finds Alan Perrott, thanks to some jokers by the names of Stacey, Awen and Monty.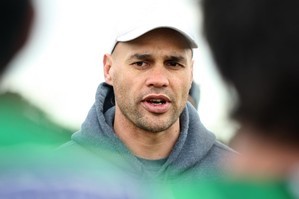 Pirate stories don't usually mingle legends with fairy tales. Nor do they usually come overrun with overexcited children. But the tale of a group of pirates from Pt Chevalier embodies all this and much more. For this is a pirate story filled with pride, passion, legends, lashings of blood (or at least blood ties) and - these pirates hope - the happiest of fairy tale endings.
A year ago the Point Chevalier Pirates, a 91-year-old Auckland rugby league club and the pride of their suburb, looked set to walk the plank. Its top side was bottom of the bottom division, with just a single victory all season. The second stringers had, though it barely seems possible, done worse. They'd been dumped from the competition for defaulting too many games because of a lack of players, and that wasn't counting the matches where they took the field with fewer than 13 men.
This sorry mess, this annus horribilis, was the end of a near decade-long slide toward oblivion. Only nine years earlier, the Pirates had been wildly celebrating after their seniors had played their way into the top grade.
Then began a dark tale of mismanagement the club would prefer to forget, its coffers emptying to such an extent that only an urgent loan from the sport's governing body prevented the Pirates from sinking without a trace. Inevitably the off-field debt crisis ran on to the pitch and the top side dropped the ball and two divisions over consecutive seasons, dragging morale with it.
And then there was last year, a year when 91 years of history, pride and blood, sweet and tears seemed to count for nothing. And then ...
At the business end of the very next season, you'll find these Pirates with smiles even wider than their senior side's winning margins. The club's access to resources is now so great that it has some feeling guilty. And visiting teams are now asking them to pose for photographs - if they can find the Pirates among all their rellies - while the clubrooms have been spruced up with a paint job and new carpets.
What's going on here, then?
On the surface it's about those legends: Stacey Jones and Awen Guttenbeil. Both played for Point at schoolboy level before jumping into the professional game, Guttenbeil with Australian NRL club Manly Warringa and Jones, of course, with Auckland's Warriors.
When they were reunited at the Mt Smart-based club the pair would get misty-eyed about their old club days and make vague promises of returning some day to "give something back". It was lovely, romantic stuff, but talk is always easy.
Time passed until late last year, when their old club's predicament drove the pair to have a crack before it was too late. They'd already amalgamated with nearby City Newton. The next stop on that road is often extinction. What languishing club is going to say no to two former internationals? Especially two former internationals offering their services for free.
Their presence isn't unique though. There's something of an arms race for marque coaches going on at club level in Auckland. Big names like Duane Mann, Richie Blackmore, Joe Vagana, Willie Swann and Tony Tuimavave are all coaching these days - and, in contrast to the Pirates, being paid to do so - but there's something about the vision of the Point pair that's getting others on board.
Another question: how many rock-bottom division clubs in any code anywhere can boast five recent internationals on their playing roster? Not only do they have a dead-set legend like Jones to call on every week, there are also the occasional appearances from Monty Betham, Wairangi Koopu, Sevens star Karl Te Nana, and, if absolutely necessary, coach Guttenbeil.
Initially, they had former Th' Dudes vocalist and man about town Peter Urlich serving as manager - he wrote the team's victory song - while Sir Peter "Mad Butcher" Leitch lent a hand with the fundraising. Guttenbeil's brother Karl, a former New Zealand A representative, was talked into turning out as captain by his wife, another Pirates stalwart.
Once word of all this leaked out, an unprecedented 45 players turned up to trial for the city's bottom-ranked team.
It was something of an "okay, now what?" moment for the new coaching team. Guttenbeil had been player-coach at English club Castleford, but Auckland's third division promised different challenges to the cash-rich Super League.
He raided the Warriors training shed for gear and talked some Fire Service mates into providing the lighting at practice, but he couldn't do the hard yards for his charges, that was going to be up to them.
"And that was something I probably didn't appreciate when I came into this," says Guttenbeil. "After playing at the levels we have, we almost expected the players to have this blase attitude: 'it's third grade, so who cares?' But these guys want to be the best they can be, just like the pros. They soak up everything me and Stace can offer, which is all we could ask, and they've showed us that just because you're not a professional, it doesn't mean that you're not succeeding."
That ethic has helped two of the teams youngest players, Ash Harawira and Dwayne Lisiua, develop to a level that has seen them earn invitations to join the Warriors pre-season training at the end of the year.
But the success Guttenbeil is after doesn't just come on the field. One of his few edicts is that the senior team must return to the clubrooms after playing. It's all about creating a real social connection from the bottom through to the top. The junior teams take turns serving everyone their $5 dinners, with any profit going into their team fund, and the seniors take turns handing out the chips, fizzy drinks and Subway vouchers to the kids at their weekly prizegiving while the rest applaud. It's a model many struggling clubs would do well to observe.
Local businesses say they can now tell when the Pirates are playing at home. Not only is parking at a premium, but according to one woman, you notice a lot more teenage girls wandering around in full makeup.
Canvas was invited to their last home game of the regular season against the cellar-dwelling Pukekohe Pythons, a fledgling club without clubrooms which relies on the showers and changing rooms at a local marae. Predictably, the Pirates won 72-20 on a bitterly cold afternoon to maintain their unbeatable seven-point lead at the top of the table and lock in a home semi-final.
Despite the towelling, in his post-match speech Pukekohe's captain almost choked up as he spoke of the inspiration his guys had felt from simply taking the field against the likes of Jones and Betham. It was a day they'd always remember, he said.
As for the winners, the result was great, but Guttenbeil takes little joy from delivering hidings. Midway through the first half he reduced the carnage somewhat by quietly pulling Jones from the field - he does this every game so the team don't grow to rely on their stars - and didn't replace him, leaving his team a man down.
"You almost feel guilty," says the coach. "These are all grassroots teams and you can't help feeling sad when you see the things we've been able to bring in that clubs like Puke can't."
Their opponents do see some benefit though. Many report their biggest crowd of the season came the day the Pirates visited and that always means a financial windfall. Jones even allowed the Pythons to use his name in prematch advertising and then stuck around for hours after the game to meet the locals. Especially the kids. He might be getting on, and his belly is looking increasingly pleased with his retirement, but the kids still adore Jones.
And they're always there. There were kids in the changing room bouncing on their dads' knees as Guttenbeil made his pre-match speech and they were there again afterwards, banging on whatever was handy, as their dads roared their victory song.
"That's because we're all about families," says Sherelle Smith, one of the club's leading cheerleaders. "We work hard to get the kids involved so they become the next generation. Look at the seniors, most of them have been mates all their lives. I've never known a group that has been so connected, it means something really strong to them and it's all they talk about. So, that's what we're trying to pass on to the youngsters, to develop that same bond with the people while creating a safe place they can keep coming back to and call their own."
As a result, it's accepted wisdom here that the most important team is the under-6s. If you can make sure that team is running year after year, your future is sorted.
For Smith, it doesn't matter that she doesn't have any kids at the club - her partner is a lifetime friend of the Jones family and coaches the Senior A side - she's out there every weekend taking photographs for the parents to buy. Fundraising is a permanent preoccupation. She even spent $2500 on a fancy camera to do the job properly: "It's just my way of giving back some of what this club has given me."
She remembers when the whispers about their famous old boys returning began. "It just sounded like talk to me, our family had spent the last three Christmas's up north with Stacey's family, and nothing was said about coming back or anything. I wasn't surprised though, Stacey really loves this club and loves being around it. What they have done has revived everything. They've brought in people who we'd otherwise never see, old boys are back and running teams of their own, and their kids are playing as well. What they've done goes all the way through, if you're talking about catalysts, that's what they are ... we sometimes forget who these guys are because they're always around. Then you see the reaction of visitors, it's a very surreal thing to see people wanting to be around Stacey and Awen."
I can testify that chatting, standing next to Jones at the urinal, will remain one of my more peculiar sporting memories.
The next challenge is sustaining what they have started.
The big two have only committed themselves to two years and are already getting a succession plan in motion. They'll still be around, but are looking forward to a time when their phones aren't barraged with arcane sporting miscellanea.
Club president Evan Croad is aware of the danger of backsliding. All the same he's confident that the club roots run deep enough to hold it together. In his case, he played for the club, as did his dad, several uncles, his mother's sister's brother, and most recently his grandson.
"I'd like to think people end up going back where they started, and when they do they remember how much they loved it ... yes, we lost all that for a while and we have all the usual bitching you'll get with any club or family. But we've been growing for a few years now. It's just that it's really taken off this year. You can't rely on that though, the most important thing is to make sure those family roots are put back in place, otherwise we'll just end up back where we were, holding everyone else up from the bottom."
Croad is especially supportive of moves to get their surrounding community involved; Pt Chevalier isn't the blue collar rugby league heartland it used to be. They plan to extend into new sports such as touch and netball as soon as possible and have begun holding a market every third Sunday at their clubhouse. There was an enormous turnout at the last club day they hosted on their home ground, Walker Park, with an estimated 600 people watching the seniors' revenge win over the first team to beat them this year, the Otara Scorpions (their only other loss came the week after the Pukekohe match when Guttenbeil rested eight players against Papatoetoe and gave his reserves a well-deserved run).
But amongst all this change, one thing has stayed the same: Neville "Skittles" Leigh. He was the man on the door making sure Jones' shirt was tucked in the first day he entered the clubrooms. "And he was a grumpy bugger," remembers Jones. Now 79, Leigh's been part of the Point Chevalier Pirates for 65 unbroken years and still makes his way up from the Selwyn Village resthome for a drink every Saturday.
Guttenbeil asked Leigh to speak to his team before the season. Rather than lecture them on tradition, the life member reminded them of their duty to go to the club after every game.
"I've seen it all, really," he says. "It wasn't that long ago when I'd go to the club for a drink and you could have thrown a boot around and not hit anybody. Now you go in and well, it's just like the old days when you couldn't even get a chair. Morale has just zoomed of late ... we've got internationals playing for us, it's quite crazy really. You see the kids, they just love being around Stacey and Awen and Monty, so everything is coming right again. For me, I've played for the Point and I've taken my full whack - both on and off the field - and I've come out laughing. You couldn't ask for any more."
One of the club's younger players puts the same idea another way. He's going from table to table looking for spare change so the youngest children can have a go on the video games. Was this another of the jobs given to players? "Nah, you just do what you do because we're all family here," he says. "I don't know how other people take that, but that's just how it is."