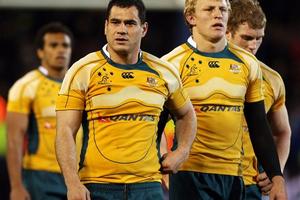 Take a look at George Smith's test career and there is one statistic that shines mightily out of the ruck of figures - he started his career in 2001 and has now played 100 tests.
Richie McCaw, for many people the best No 7 in the world ahead of Smith, also started his test career in 2001. He has now played 71 test matches.
New Zealand's most prolific player, Sean Fitzpatrick, played 92 test matches and would surely have cracked the ton if his knees hadn't cracked instead. So why is it so hard to get to 100 tests?
1. Professional era
This is the main reason and leads directly to the next. The professional era provides more test matches in total than ever used to be played. But the rules that have applied during that era also mean there is a higher attrition rate.
That is caused not just by the sheer number of matches but the sheer pace and intensity of the matches. Older stagers might not agree about the intensity but it is true that today's players are bigger, faster, cover more ground and endure more bruising collisions than their predecessors.
There are also rules in force which mean that loose forwards in particular, are caught in vulnerable poses as they fish for the ball in rucks and mauls. Opposing forwards are permitted - in practice if not in law - to take out players without the ball.
That's the remarkable thing about Smith's ascension to the Centurions Club - he has missed only five or six test matches for the Wallabies between 2001 and 2009 during this era of more games and more injuries. The comparison with McCaw - he has played 30 per cent more tests in the same period - is stark (although McCaw has 14 test tries; Smith, 9).
2. Injury
Some will point to the much-detested rotation as practised by the present All Black coaching panel and say that McCaw missed too many games he didn't have to. It's not right. Graham Henry & co have actually rotated McCaw little and injury or recovering from head and other knocks explain the major part of his "missing" test matches.
Injury is a key reason, however, for more players not passing 100 tests. The demands of the modern game, the greater incidence of serious injuries and the long rehabilitation periods (witness: Dan Carter; Ali Williams) can mean 100 tests is too big a hill to climb for most.
3. Selection
There are four parts to this: a) selectorial whims; b) practices like rotation and reconditioning c) competition and d) being a big fish in a comparatively small pond.
To take the last first, that explains the presence of Italian halfback Alessandro Troncon in the century-makers' list. A fine player, Troncon would nevertheless have been unlikely to make 100 if he had played for a major rugby nation.
However, that doesn't explain four Australians in the list of 10. Smith, George Gregan, Stephen Larkham and David Campese undeniably come from a country which has had a smaller playing base in the past - but all are equally undeniably great players. Any coach in the world would have selected these four in their team if they could - with the one exception, Kiwis would say, if McCaw was available ahead of Smith (which, according to the stats, he wouldn't be at least 30 per cent of the time).
Rotation and those other horrors (even though their use is based on sound reasoning) can also erase some games on a player's list of test matches played. In countries like New Zealand and South Africa (which has only one centurion), competition for test places has traditionally been fierce - so that a player with the ability to notch 100 tests may well not get the opportunity.
When coaches change, so too do players. Sometimes players are retired early, in the view of the public, as with the infamous Buck Shelford saga - although it is highly unlikely Shelford (22 tests) would have made it anywhere near 100. Replacement Zinzan Brooke was seven years younger and played 58 tests.
In the present crop of All Blacks, only McCaw and Mils Muliaina (72 tests) look like breaking Fitzpatrick's record and nearing the 100 mark.
If they were to play all the All Black test matches this year, they would run up a further 10. If the 2010 calendar is similar to this year, they will have 13 or 14 to add, in theory. Then, in World Cup year, while the calendar outside the World Cup will likely be reduced, there will be at least another four or five games and more if the All Blacks can get past the semifinal stages. Or even the quarter-finals.
In practice, however, injury and rotation, under Henry, are likely to interfere. McCaw has had some well-publicised head injuries even aside from the abnormal wear and tear suffered by a player of his type in his position. Muliaina seems likely to go through to the World Cup, but who knows?
So it may be that we will have to wait even longer to find a New Zealand rugby test centurion.
The Centurions
1. George Gregan (Australia) 139 tests
Maybe not the most skilled halfback ever but a great competitor who nevertheless had to endure criticism that he played test rugby for too long.
2. Jason Leonard (England) 119
The most-capped forward in the world, was frequently dropped by Sir Clive Woodward so could have had more.
3. Fabien Pelous (France) 118
A durable, hard-working and athletic lock, he is supposed to have stabbed Freddie Michalak in the hand with a fork because the latter was misbehaving in public.
4. Philippe Sella (France) 111
One of the all-time greats - a world-class centre, runner and tackler and an extra loose forward. Deserved every one of his caps.
5. Gareth Thomas (Wales) 103
"Alfie" played wing and fullback, had a reputation for being volatile and a prodigious post-game drinker and was the only one on this list to lose in his 100th test, against Fiji in the last World Cup.
6= Stephen Larkham (Australia), Percy Montgomery (South Africa) 102
Larkham was a superb runner, passer, kicker and support player; Montgomery could have won even more caps and headed this list had he not had three years in the wilderness when he wasn't selected.
8= David Campese (Australia), Alessandro Troncon (Italy) 101
Campese was the first centurion, the first rugby millionaire and one of the genuine greats of the game; plus a true character to boot. His 64 international tries is a record that may never be broken.
10. George Smith (Australia) 100