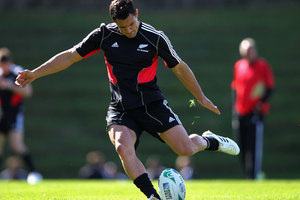 His groin remains a work in progress but Dan Carter is back in an All Blacks jersey for the first time since his infamous injury, saying the worst is definitely behind him.
It has been a long time coming for Carter, who hasn't played for the national team since the September 24 World Cup pool game against France at Eden Park.
Since rupturing his left adductor during goalkicking practice for the final pool game against Canada in Wellington, Carter has had surgery, and after one or two scares at the Crusaders after which he had to play second-five and put the goalkicking on hold, he is back at No10 for the first test of the year, against Ireland at Eden Park on Saturday.
"It's an exciting time," he said. "I was obviously disappointed with the way it ended last year for myself personally. I'm looking forward to having another opportunity. There's a new feel to the camp. It's a new environment with a lot of new faces bringing a lot of enthusiasm."
Watchers of Carter's last match - for the Crusaders against the Highlanders last Friday - would have noticed him wince after successfully kicking a long-range penalty. They probably winced as well but it was nothing to worry about, he said.
"I just kicked the ground before I kicked the ball and I felt the sensations go down my groin and I was testing it after that.
The felt that I lined one up from 50m afterwards should have proven to everyone that there was no problem at all. It's just that I pushed it against the ground and it affected me a little bit but in terms of having any repercussions there's been nothing at all."
Carter, 30, was still managing his kicking workload in training, but he said it was a matter of having faith in his goalkicking background.
Having played 85 tests, he no longer needs to kick 40 or 50 balls a day. Now, rhythm and timing are more important.
He said he was building up good strength in the muscle and those surrounding it, and his confidence was back.
"As a kicker that's important because you put the muscles under a lot of stress, so that's something I'll continue to do," he said of his exercises.
He said the injury is not getting in the way of his performance. "I'm back playing for 80 minutes and kicking freely now so that's encouraging. I will probably have discomfort for another couple of months but I think the worst of it is behind me now."
New season, new halfback partner for Carter, and he is looking forward to playing with Highlander Aaron Smith for the first time.
"We're building a new combination. It's crucial that nine and 10 combination, so we'll have to make sure we're functioning well and talking throughout the game because we haven't had the chance to play alongside each other before."
Carter, instrumental in carrying out the game plan, said Hansen hadn't changed things too much from last year.
"He's got a few new ideas but we don't want to change too much, especially how the season is this year. We've only had two really small camps to prepare and guys have had a game last week so we haven't had much time. You can't change too much ... he's added a little spice to a few things."
- APNZ