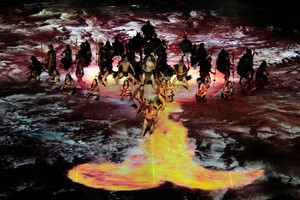 New Zealand's passion for the game helped ensure Rugby World Cup was a memorable success, says Peter Bills
In the end, it was all decided by a point. One single lousy point; no more than a third of a simple penalty goal. Imagine that!
How many months ago does it seem that we sat entranced in the darkness at Eden Park and watched a youngster lifted into the sky, and dancers grace the stage before Jonah Lomu strode onto the field. Such memories, such experiences.
It was a World Cup in the true sense of the word because just about all the games were played in front of large, vibrant crowds. The local people got behind every team and that captured the imagination and excitement of the whole event.
Of course, way back in 1987, it was all so much more matter-of-fact. At times in that first ever Rugby World Cup, you would hardly have known there was a tournament going on either side of the Tasman. No such doubts existed this time.
This was a World Cup that caught the imagination of an entire nation. It excited interest and debate between ordinary people in the street who might otherwise never have heard of Quade Cooper, Mike Tindall or Sam Warburton.
Generally, when families get together, watch out because the crockery tends to fly. Bad feeling, bad words abound. Yet when rugby's family meets up every four years there is, in the main, only harmony and good feeling.
People came from all over the world to share this experience, from the cafes of Buenos Aires and Paris, from the offices of London, from Dublin's bars and South Africa's beaches. There were one or two renegade Australians who slipped over the Tasman but you can't expect everything to be perfect, can you?
All shared a common desire to come together and celebrate a unique rugby event and a special occasion in the history of this country. Some say it will be the last ever Rugby World Cup staged in this country but I doubt that. After the job you have done these last six weeks? That would be crazy.
What is not in dispute is that the game will make a lot more money at the next Rugby World Cup, in England in 2015. But that doesn't mean it will be better. Fact is, it may be a whole lot more impersonal and therefore not as good. Time will tell.
One thing is for sure. This World Cup succeeded because it was held in a proper rugby country, a place which lives and breathes the game. It was no surprise to regular visitors that the nation so embraced the event, took visitors into their homes and helped make their stays so memorable.
Maybe, too, having the Rugby World Cup in your country alone for the first time ever was good for New Zealand. It must have broadened horizons here, brought people together with folk from other lands and emphasised the values of overseas contacts, both business and personal.
For me, it emphasised two things. This country is simply nuts about rugby football and secondly, it tends to encourage the thought that nothing other than winning matters. That olden day sporting creed that participation is all, where you finish does not matter, would be alien to New Zealanders.
Nor is there anything much wrong with that. The hurt of a 24-year wait had gone too deep, the bitter memories still too fresh to encourage a philosophy of anything except the importance of winning.
And somehow, albeit stumbling to the finish line like exhausted athletes, New Zealand's rugby men finally delivered. They made sure the Webb Ellis Trophy came home after such a long wait.
But for many of us, the experience wasn't about who won the cup, or how many points were scored in the semifinal. It was about simple human relationships and the celebration of them, both old and new.
For it cannot be a bad old game that creates and fosters such friendships so that they last a lifetime. That, to me, should be the great legacy of a Rugby World Cup. Winners come and go, destined to be mentioned ultimately in the same breath as losers. But friendships endure. And what is more, they are worthy of celebration a whole lot more than just every four years.
Peter Bills is an international writer for Independent News & Media