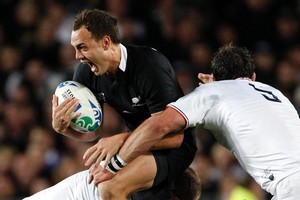 "Quatres annees de plus."
It sounds slightly less brutal in French, but the message would have been the same. Four more years.
And for much of the second half of a desperately intense, thoroughly competitive if rather messy Rugby World Cup final that thought hung heavily over the All Blacks.
In the end it turned to joy for the packed house - joy at the All Blacks being in the final, at it happening in New Zealand, and joy that they were there for the denouement to a fabulous six weeks.
For both teams last night was about seizing the day. The All Blacks had been a dominating rugby force throughout the cup; France had been anything but.
Bottom line - the All Blacks' hurt is over. The number of years, which has risen in blocks of four five times since the 1987 cup final on the same ground, stops here.
The atmosphere was electric beforehand, the sense of keen expectation mingled with sheer pleasure. By halftime, that had turned to a distinct unease.
An hour before the kickoff among the throngs in black, and occasionally blue and white, strode a lone, anonymous figure.
He wouldn't have been so unknown had he been leading his Welsh team out on to Eden Park last night. Instead Sam Warburton was just another face in the crowd.
A penny for his thoughts at halftime last night. Just a hunch, but at that point he might have fancied his team's chances had they not blown their semifinal against the French, after a first 40 minutes a chap nearby described as "crap".
One man's crap is another's absorbing contest, but either way it was far from a done deal when the teams headed for a chat and a think.
For a game to matter it must have drama. Drama could scarcely have come in sharper focus than it did with the arrival of Stephen Donald before halftime for an injured Aaron Cruden.
Unwanted all year, then called into the squad before the semifinal.
He kicked an important penalty, and how vital it was in the washup.
France had to make several giant leaps to get close to the All Blacks and fell, agonisingly short.
They gave it a real lash, and that was desperately close to being enough to do the job.
When it turned into a rigorous arm wrestle in the second half, the French were right up for it.
How the suffocating desire to lift the Webb Ellis Cup must have preyed on these All Blacks. Finally, that pressure has eased.
Four more years? Sounds good now.