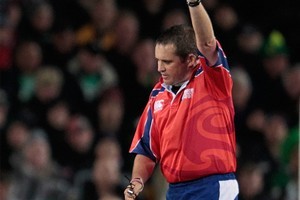 Former test referee Andre Watson believes Bryce Lawrence will never control a Rugby World Cup game again after his performance in last weekend's quarter-final between Australia and the Springboks.
The Springboks World Cup campaign ended last week in an 11-9 defeat to the Wallabies with retiring captain John Smit taking a parting shot at the New Zealand referee.
After the match Smit said David Pocock and Australia's forwards got away with murder at the breakdown, nullifying any advantage they were getting through possession.
He later told journalists on his arrival in South Africa: "The one positive (of retirement) is that I won't ever have to be reffed by him again".
South African referees manager Watson, who is the only referee to control two Rugby World Cup finals, has joined the list of people critising Lawrence's performance.
Talking to a South African radio station Watson, who awarded a controversial last minute penalty in the 2003 final, said the New Zealander's handling of the breakdown was mystifying.
"His opening game (at the World Cup) was outstanding. I had no problem with his appointment," he told 567 Cape Talk Radio.
"But he allowed a free-for-all." This meant ace Australian fetcher (flanker), David Pocock, was able to have a field day, constantly disrupting the Springboks' flow.
"It's not what you would expect from a referee of his calibre - he didn't referee the breakdown the way he was supposed to. He just didn't step in."
Watson says Lawrence, who is rated as one of the best referees in the Southern Hemisphere after taking control of the Super 15 final, will be admonished by the IRB and will never control a match at the tournament again.
"He will be punished, but that's up to the IRB. I do not believe we will see him in any Rugby World Cup (ever) again," said Watson.
Watson also said that the South African referees association will look at taking action against the New Zealander.
Meanwhile almost 60,000 rugby fans have backed a Facebook page called "Petition To Stop Bryce Lawrence Ever Reffing A Rugby Game Again".
Comments left by the participants ranged from the gracious to the vile.
"What we mustn't do is demonise New Zealand - remember how awesome it was to win at home - Bryce Lawrence is just one man!" wrote Louise Vickers.
"New Zealand have been through a lot - earthquakes and now oil leaks - let's support our Southern Hemisphere brothers regardless of Bryce Lawrence!"
Some were hopeful their petition could convince the International Rugby Board to stage a rematch of the quarter-finals match.
"The Boks deserve a rematch!" said Kim-Leigh Kristen Davids. "WE DEMAND A REMATCH! We can beat da Aussies in our sleep!! (without Bryce Lawrence as the ref)."
- HERALD ONLINE (additional reporting by Michael Dickison)