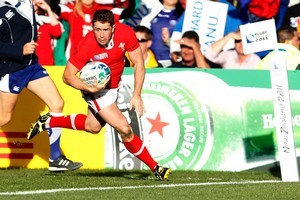 When France and Wales square off at Eden Park on Saturday night, there'll be a handful of matchups to whet the appetite.
Jamie Roberts and Jonathan Davies - assuming Welsh coach Warren Gatland reconfirms the favoured midfield pairing tomorrow - against Aurelien Rougerie and Maxime Mermoz in midfield; the front rows; Mike Phillips and Dimitri Yachvili at No 9; and two combative, rousing loose forward combinations for starters.
So take a look out at the Welsh left flank at some point.
There you'll see Shane Williams, 34 years young, up against Vincent Clerc, who might just be the best winger on show at the World Cup.
Clerc is equal top tryscorer with the departed Chris Ashton of England, with six from his five games. He's lively, resourceful, with a sharp turn of speed and a good eye for an opportunity, as demonstrated with his try on his "wrong" wing against England in the quarter-final.
Williams has scored twice in his three games.
They were the decisive score against Samoa in Hamilton, which effectively made sure they'd make the last eight at the Samoans' expense; and early against the Irish, to set Wales off to a flyer in their quarter-final last Saturday.
The twinkly-toed Williams has scored 56 tries in a terrific 84-test career now in its 11th year.
Clerc, 30, has 31 tries in 55 tests and don't be surprised to see a nod of acknowledgement between the pair on Saturday night.
Williams is an avowed fan of the State Toulouse veteran.
"I have been impressed with him from the start," Williams said. "He is a hard worker and he scores a lot of his tries late on in games.
"That shows he works hard throughout and he is a player who goes looking for work. He comes off shoulders and is never far from the ball and that is why he scores so many tries.
"He's the sort of player I enjoy watching, if not playing against too much."
And Williams, at 1.7m living proof that rugby can still offer a role for all shapes and sizes, has a theory why Wales need to be on their toes on Saturday night - "they save their best rugby for knockout stages".