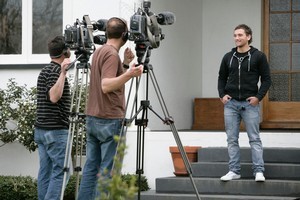 News of All Black Daniel Carter's tournament-ending injury was like a bushfire fanning the Rugby World Cup quarter-finalists.
The All Blacks' major weapon was silenced, the victim of an unusual training ground mishap the day before the side's final pool game with Canada.
Signals about Carter's shock tournament exit came less than 24 hours later with a media alert then stern confirmation from coach Graham Henry and Dr Deb Robinson.
Carter had torn the left adductor muscle in his groin, an injury which may need surgery but also months out of the sport. Dr Robinson described the damage as a "freak" injury.
Dr Robinson said: "Daniel has no history whatsoever of groin problems and had no symptoms on the day. He trained well at captain's run and several of us had commented, particularly as he had had a sore back a couple of weeks ago, on how good he was looking.
It just happened totally out of the blue."
Carter's scan showed no damage other than the groin tendon injury and he will travel to Auckland today for further specialist attention.
"For a guy who has played that much rugby and done that much kicking it is quite remarkable really. There is just no reason," she said.
A downcast Henry spoke about the devastating news for his world-class five-eighths. The coach feared the worst when he saw the training-ground accident. Carter was probably one of the greatest players ever produced by this country, Henry said, and this World Cup was going to be the pinnacle of his career.
"He has had a lot of focus on this tournament for the last couple of years and it is devastating that he can't be involved in that," said Henry. "I think we should spend a bit of time thinking about what he has done for New Zealand rugby and where he was at. It is a tragic situation for a highly talented young sportsman. This was his scene really, a World Cup in New Zealand, this was going to be his big occasion.
"He doesn't talk that way, it is the coach talking so I feel very sad for him.
"We've been dealt the cards we've got and it is very important we play them superbly. So that's the goal, we play the cards we've got and we do our best with those."
The All Blacks were shattered by the news, Henry said, but they were a resilient group focused on achieving their World Cup goals.
The promising Aaron Cruden has been called in to assist Colin Slade who played yesterday against Canada.
Decisions about the future and the five-eighths the All Blacks would use in this tournament would look after themselves, Henry said.
"Colin is the No 1 at the moment," said Henry. "He had been given a menu of information to use yesterday and there had been no point cluttering him with other ideas. That would show a sign to him from me that I don't trust him and I do and he will do the job."