LIVE coverage of all Rugby World Cup news and action on and off the field. Refresh your page for the latest updates.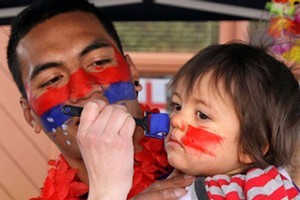 22:25pm:
Thank you for joining us at nzherald.co.nz for live updates today.

Great wins for Ireland, South Africa and Argentina.
Tomorrow we will bring you livescoring of Wales v Samoa, England v Georgia and France v Canada.
22:17pm:
Ireland win 15-6 over Australia.
Huge upset victory!
Watchout downtown Auckland its going to be a big Irish party!
22:07pm:
Australia making a raft of changes in the final 6 minutes of the match.
Samo, Elsom go off.
Higginbottom, Palu on.
22:00pm:
Ronan O'Gara nails a 70th minute penalty to stretch Ireland's lead to 15-6.
Ireland leads Australia with 10 minutes remaining.
Upset on the cards?
21:51pm:
Quade Cooper is a Kiwi but the fans at Eden park sure don't like him as nzherald.co.nz reporter Paul Harper reports:
'Biggest cheer so far from the neutral supporters went up when Quade Cooper got smashed.
He's not too popular!
Not too much going the Aussies' way.
The Wallabies must be thinking they'd have a better chance scoring on K Rd after the game.'
21:45pm:
nzherald.co.nz reporter Paul Harper comments on the atmosphere at the ground:

'Unbelievable atmosphere here, the crowd is in great voice.
But I wish they wouldn't play music over the loud speakers - what's the point of drowning out such passionate rugby supporters?'
21:39pm:
Ireland take the lead through another Jonathan Sexton penalty.
Ireland leads Australia 9-6.
21:36pm:
Quade Cooper blasts his forwards after kicking an average touch-finder which goes out on the Irish 30m mark.
His forwards are struggling to beat the first tackler and make it past the advantage line.
Cooper is playing off the backfoot here with little go-forward up-front.
He lets them know what he expects from them. A few expletives there.
Still a tight one at Eden Park.
21:20pm:
Halftime: 6-6
Ireland and Australia are contesting a titanic struggle.
The Irish forwards are dominating at the breakdown and are making it difficult for Genia and co to set the backline into full flight.
Australia struggled against Samoa and the All Blacks with the physical approach they brought to the close-quarters battle.
Despite rectifying that in the final two weeks of the Tri Nations, tonight they are off the pace with the emerald green winning up-front.
21:09pm:
Ireland and Australia are locked up at 6-6 with seven minutes to play before halftime.
Australia have made the most the running in the opening quarter with Quade Cooper and Kurtley Beale making plenty of metres into the Irish half.
20:44pm:
nzherald.co.nz reporter Paul Harper finally gets to the front of the queue for his beer - his latest report:
Took 13 minutes to buy a couple of cans of beer before the game.
Thirsty Aussies and Irishmen weren't too chuffed!
Very few empty seats in Eden Park.
Probably more Irishmen in here than Aussies.
They're definitely the louder group of fans. Aussies have more to cheer about early on though.
20:32pm:
The Irish v Wallabies match has kicked off.
Earlier our nzherald.co.nz reporter Paul Harper made a few observations prior to matchplay:
Both sides now out on the field warming up.
A lot of high kicks from the Aussie lads while the Irish are polishing their passing moves. A sign of things to come, perhaps?
A few decent drop goal attempts by the Wallabies too.
Brass band belting out some tunes for the crowd, which is starting to pack out.
Judging by the green and yellow patches around the stadium, I'd say it's about 60/40 in favour of the Aussies.
But you could probably assume the neutral punters here are backing the Irish underdogs.
10 minutes later...
Queuing for beer. Line isn't moving. Good banter between fans, although the Aussies responses to Irish fans are pretty poor!
20:26pm:
Ireland have won the coin toss and captain Brian O'Driscoll has chosen to run right to left in the firsthalf.
It's been a rainy day in Auckland but there are no signs of rain at the ground tonight.
The Wallabies will look to get a fast start to try and throw off Irish beliefs that they can stay in the game with the green and gold.
Ireland will look to hit Australia hard and knock them off their stride in the opening half.
The two teams are walking on to the field.
20:15pm:
We have live updates of the final match of the night with Australia v Ireland at Eden Park in Auckland.
19:54pm:
South Africa will go to the top of Pool D after a convincing 49-3 victory over Fiji at Westpac Stadium.
The defending champions put everything into the game and showed how much of a force they still are, defending stoutly to deny Fiji from crossing their tryline.
The threat of the Fijian flair was shutout by a ferocious South African defence who gave them nothing but an early penalty in the opening ten minutes.
Six tries were scored by the South Africans in a performance that will send a message to Samoa and Namibia who would have noted a struggling forward pack against Wales.
Tonight the South African forwards stood up and dominated the Fijians with captain John Smit, Bakkies Botha and Dannie Roussow the standouts in the pack.
Lock Roussouw was named man of the match for his performance.
Match report to follow
19:28pm:
Arguably the biggest match of the weekend is clash between Wales and Samoa.
The Pool D encounter will see a true World Cup rivalry come toe-to-toe in a must-win match for both teams.
Wales played outstandingly well last weekend but could not get the 'W' falling a point shy of the Springboks.
Warren Gatland labels his side as a different breed to the Welsh teams of the past but Paul Rees questions their mental toughness to win tight games.
19:09pm:
Tonight's match at Eden Park will be a milestone for the Wallabies if they can get the victory.
The ground has become a graveyard for the Wallabies with their last victory on the ground 25 years ago.
Greg Growden writes about the streak of losses for the Wallabies at the
Garden of Eden.
Interesting fact: Seven Wallabies from tonight's starting XV - Kurtley Beale, Quade Cooper, Anthony Faingaa, Will Genia, Pat McCabe, James O'Connor and David Pocock - were not even born when the Wallabies last won in Auckland, September 6, 1986.
18:50pm:
nzherald.co.nz reporter Paul Harper has finally made it to Eden Park. Yay!
Fans are starting to file into the stadium now and make their way to their seats.
Rain has been on and off here at Eden Park - for the sake of those in the uncovered stands and in the interest of free-flowing running rugby, let's hope the rain stays away tonight.
18:44pm:
South Africa leads Fiji 13-3 in their Pool D encounter at Westpac Stadium after 32 minutes with prop Gurthrö Steenkamp dotting down for the only try.
In the following match, the Irish face the Wallabies at Eden Park what has been touted as the defining match for the Pool C.
If the Wallabies win they will go through as top qualifiers, whereas if Ireland pull-off an upset it will throw the pool wide-open with Italy yet to face Ireland.
Here's a match preview.
18:20pm:
Paul Harper checks back with another update from his train ride. Good news for Auckland and tourists - no train trouble tonight.
No problems with trains to the game this week, it only took about half an hour to reach the ground.
A lot of Irish people here now looking for a drink!
On the train, Ireland fans Ciaran Hughes and Mark Cullen weren't too confident ahead of tonight's game. Ciaran reckons 32-12 to the Aussies, while Mark is picking the Wallabies 28-12.
"If Ireland can play the way they are capable, we will win. But we haven't showed the form we are capable of," Ciaran says.
The pair say the team is too reliant on the aging O'Driscoll, and could do with the service of "lightening quick" Felix Jones, who was injured before the tournament.
17:56pm:
I promised you a match report for the Argentina v Romania Pool B match and I have it here:
Argentina show they can score tries.
Thanks to APNZ reporter Adrian Seconi.
17:50pm:
If you can not get in front of a television, nzherald.co.nz has your Rugby World Cup livescoring needs.

Here's a link for the South Africa v Fiji match: Live now
17:32pm:
Fulltime in the Argentina v Romania match with the South Americans convincingly beating the Europeans 43-8 after scoring four tries in the opening half.
Argentina dominated the setpiece and breakdown despite losing to England 13-9 last weekend. This time it added a potent attack to lead 26-8 by halftime.
It was Argentina's eighth win in a row in tests against Romania.
Match report to follow

17:27pm:
nzherald.co.nz reporter Paul Harper is making his way to Eden Park on a train from Britomart.
Here's what he has to say about the journey so far:
"Train carriage filled to standing.
Surrounded by Irishmen, first song Fields of Athenry, next song Ireland's Call.
The few Aussies in here pipe up with ACDCs thunderstruck. Irish definitely the better singers.
Ireland 1, Australia 0."
17:23pm:
The whizz' in the nzherald.co.nz video department have packaged a Conrad Smith and Adam Thompson interview from earlier in the day.
Smith, spotting a bruised lip from last night's battle, says it was 'determined' effort from the boys and it was nice to 'get that confidence' in an open game.
16:50pm:
The Rugby World Cup is waiting for its first upset of the tournament and tonight's Fiji v South Africa clash could provide just that.
However Fijian Seremaia Bai isn't promising one but he is confident that if his side can play to the 'best of our ability' - anything could happen.
After pipping Wales 17-16, South African fans would rue having to have their hearts in their mouths again for 80 minutes.
16:34pm:
In the latest update with regard to Rugby World Cup action on the field, Argentina leads Romania 29-8 after 43 minutes.

Martin Rodriguez added his third penalty of the match after the break to stretch his side's lead to 21 points.
J Figallo, J Manuel Leguizamon, S Fernándeza and L Gonzalez Amorosino crossed the chalk for the Argentines with Romanian winger I Cazan going over for one five-pointer.
16:26pm:
nzherald.co.nz reporter Paul Harper has filed in with his latest update from Party Central:
"Queens wharf pretty full but not yet to capacity.
It's a sea of Argentinean blue, the emerald green of Ireland and the yellow of Romania and Australia down here."
Good to hear that plenty of fans are supporting their teams in their respective colours. Where are the South Africa and Fiji fans?
16:19pm:
As referred to earlier, Conrad Smith otherwise known as 'Snakey' to his All Blacks teammates achieved his 50th test cap last night against Japan.
Former All Blacks captain and teammate at both provincial and national level, Tana Umaga, pays tribute to the his 'tenacious' and 'tough' friend.
15:52pm:
Sonny Bill Williams performed with distinction last night in the 83-7 trouncing of Japan.
His performance on the right flank of the backline has extended his utility factor with winger now an option for the second-five/centre.
He scored two tries and made a number of breaks to add another selection headache to the 'three wise men' who were impressed with his display.
"He scored two tries and set up another one. He's certainly got the interest of the selectors how well he played there," said Graham Henry.
15:20pm:
Is Piri Weepu now the All Blacks backup to Dan Carter? That's the question being asked after Colin Slade's latest mixed performance against Japan last night.
Slade scored a try, kicked 9 from 13 attempts at goal and finished with 23 points in New Zealand's 83-7 win in their second Rugby World Cup match in Hamilton.
But he threw an intercept pass and missed some early kicks.
Former All Blacks flanker Richard Turner believes Slade has played his way out of the 22.
Turner says Slade had a good opportunity last night but he never looked confident and comfortable in the 10 jersey.
Turner sees Piri Weepu as the back-up first five.
14:42pm:
All Blacks centre Conrad Smith, who made his 50th test appearance against Japan last night, has made some interesting comments about next Saturday's French clash.
Recalling the All Blacks underachieving World Cup history since winning the inaugural title 24 years ago would boost the side, Smith said after last night's 83-7 win.
"As a team, generally we'll deal with the struggles of World Cups gone.
"If we look at our World Cup history and past failures, it might give us the edge that we need to succeed in this tournament."
Check out highlights of last night's game.

14:32pm:
Australian flanker David Pocock is a key withdrawal from tonight's big clash against Australia.
Here is a match preview.
14:20pm:
Hi every one, welcome to our Rugby World Cup live updates which we'll continue tonight until after the final game, that being Australia against Ireland. We can tell you that, on the Auckland waterfront, the chaos of the opening night appears not to have deterred crowds from heading down.
Newstalk ZB's Tim Dower is at the cloud and says it's almost at capacity. "What we're seeing is a friendly and warm atmosphere, it's the sort of thing that makes you proud to be part of New Zealand."