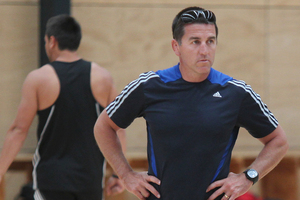 New Zealand women's sevens coach Sean Horan had to seek special dispensation to select a pair of 17-year-olds in his squad for this weekend's Oceania Sevens championship in Noosa.
Hayley Hutana and Michaela Blyde, both aged 17, were given dispensation to play in the tournament, run under the umbrella of the Federation of Oceania Rugby Unions, which usually requires participants to be 18.
Both players turn 18 this year, so they were given the green light.
Horan said they had deliberately picked new faces in the travelling squad to introduce fresh talent to international competition before the IRB world series gets under way late next month.
"The new faces, Hayley Hutana, Crystal Mayes, Shiray Tane, and Michaela Blyde, were recruitments from the New Zealand Rugby Go4Gold programme, and these players were part of our pre-Houston tournament camp this year.
"They are definitely fantastic, young and exciting talent," Horan said.
"While we want to give some of the younger players an opportunity to play in an IRB tournament, we also want to ensure that some of our World Cup players get more game time experience."
Tane, 18, is from a touch sporting background. She is currently playing for Waikato in the women's provincial championship.
Blyde, who turns 18 in December, is currently playing for Taranaki in the WPC, having come from a football background.
Another Go4Gold find, Hutana, who turns 18 in November, is playing for Manawatu this year.
The squad leaves for Australia tomorrow where they will look to defend their championship title.
"We are expecting Australia to be tough opposition particularly with a new coach and we know that Fiji are building a strong base too," Horan said.
New Zealand open the five-tournament world series in Dubai on November 28-29.