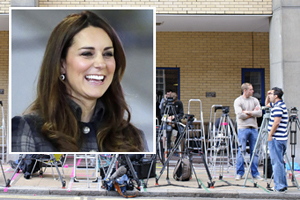 The Duchess of Cambridge is not officially due to give birth for two weeks but the world's media have begun gathering outside the London hospital where she will have the baby, determined not to miss the photograph of the year.
Dozens of television camera operators and photographers marked out their positions on the pavement opposite the entrance of the Lindo wing of St Mary's Hospital in Paddington, ready for the arrival of the royal mother-to-be.
Buckingham Palace has said the Duchess is not due until mid-July but rumours abound that she could give birth earlier, fuelled by Princess Diana's decision to announce a false due date when she was pregnant with Prince William in 1981.
The press pack outside St Mary's admitted they had little new information about the birth, but after one camera crew arrived many felt they had little choice but to go down and secure their own spot.
The birth of a new heir to the throne is a global news sensation, particularly given the popularity of the Duke and Duchess.
Catherine has not been seen in public since June 15 when she joined the royal family at the Trooping of the Colour, marking the Queen's official birthday.
- AFP