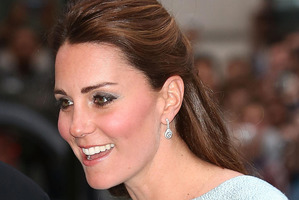 Kate and Wills have not shared the sex of their child but bookmakers are giving odds on what name the Duke and Duchess of Cambridge will choose.
As Kate's pregnancy enters the third trimester gamblers can bet on the royal baby's date of birth, hair colour and even if he or she will arrive on the same day as Kim Kardashian and Kanye West's baby, reports Marie Claire.
Bookmaker Ladbrokes' odds of the baby being a girl are 2-5 and 2-1 for a boy.
As for name, the favourites include Elizabeth, Alexandra and Diana at 6-1 and George and Charles at 14-1.
For those wanting a long shot, Ladbrokes is offering odds on monikers as diverse as Adele (200-1) and Elvis (500-1).