Netherlands gets out the orange for sovereign who wants people to feel at ease.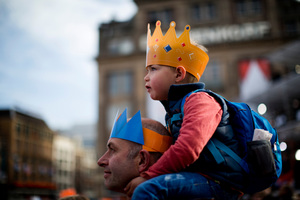 State school-educated water management specialist Willem-Alexander does not really care what you call him.
Perhaps he would prefer people forget his one-time nickname Prince Pils, acquired because of his youthful fondness for a few beers, but there will be none of this "Your Majesty" business as the 46-year-old settles into his new job as the first King of the Netherlands since 1890.
"People can address me however they want," the newest head of the Royal House of Orange-Nassau said recently. "For me, it is about people feeling at ease when I'm with them."
Being at ease did not appear too much of a problem for his subjects as they packed the streets of Amsterdam, beer cans in hand and bobbing up and down to thumping beats from speakers throughout the city. In their orange dungarees, orange wigs and inflatable orange crowns, people spilled out of windows, on to balconies, on to bridges and into the streets.
A tourist stumbling upon all this could be forgiven for thinking the city was celebrating a victory on the pitch for its equally orange-clad football team, rather than marking a royal "investiture" - nothing as ostentatious as a coronation for the egalitarian Dutch.
Their new monarch was not, however, top of everyone's minds. "I guess it means drinking a lot of alcohol," said Noortje Van De Vooren, 25, as she doled out mojitos to thirsty revellers and pondered the significance of the day.
While there is genuine affection for the abdicating Queen Beatrix and her first-born son, the Netherlands shows little of the extravagant pomp or fawning reverence on display in Britain for royal events. While London sent a flotilla of 1000 vessels down the River Thames in the drizzle for last year's Diamond Jubilee, Amsterdam simply rigged up sound systems and let everyone party.
Behind the doors of Amsterdam's Nieuwe Kerk (new church), there was no heavy crown of gold, tourmaline, sapphires and ermine placed on King Willem-Alexander's head. In the Netherlands, the crown is simply placed on a table in front of the new sovereign. And the riches of these royal jewels? Silver with gold gilt, decorated with coloured glass and beads covered in fish skin.
Watching was the world's next generation of sovereigns, including Spain's Prince Felipe, Japan's Prince Naruhito, Prince Philippe of Belgium and Princess Victoria of Sweden. One of the oldest heirs present was Prince Charles, 64, who seems unlikely to casually tell his subjects when he finally ascends to the throne to ditch the "Your Majesty" and just "call me Charlie".
But how these younger royals react to changing times could determine their very survival, says Lars Hovbakke Sorensen, a lecturer in modern history at the University of Copenhagen.
"The new generation which comes into power in the Netherlands and which will soon come into power in other states will try and be more informal and more like ordinary people," he said.
Willem-Alexander's brief spell at university as the nation's Prince Pils has done him little harm in a nation where being laid back is hardly frowned upon.
Modernity does not necessarily equal austerity.
A study last year found that the Dutch monarchy cost the taxpayer more than any other royal household in Europe.
And despite nationwide belt-tightening, Queen Beatrix demurred at the prospect of taking a pay cut.
All the more reason to celebrate, said one reveller.
"They cost us so much money each year and there is one day you can celebrate your arse off. So why not?" said Paul, 25, hoisting his can of Heineken aloft and staggering off to find the next party.