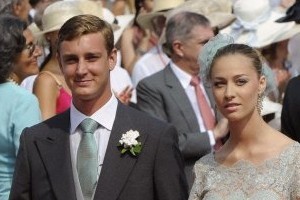 Monaco's Prince Pierre Casiraghi, grandson of Hollywood legend Grace Kelly, was hospitalised after being injured in a late night fight in a New York nightclub, a report said Monday.
Casiraghi, the son of Princess Caroline, was partying at a New York club Saturday when he and friends fought with former Manhattan club owner Adam Hock and his entourage, according to the New York Post.
Hock, 47, was arrested early Saturday morning and charged with four counts of assault, a New York police spokesman told AFP.
After the fight at the exclusive "Double Seven" club, in Manhattan's Meatpacking District, Casiraghi's face was "broken, with deep cuts and blood everywhere," according to a witness cited by the Post.
Another witness said just before the fight erupted, at around 2:30 am local time, the prince and his companions had approached Hock's table and "were being completely obnoxious."
Casiraghi was taken to a hospital after the brawl but released early Saturday, said the newspaper.
The palace declined to comment on the incident.
Glamorous Hollywood star Grace Kelly starred in multiple classic movies including To Catch a Thief and Dial M for Murder before becoming a princess of Monaco through her marriage to Prince Rainier III. She died in 1982.
- AFP