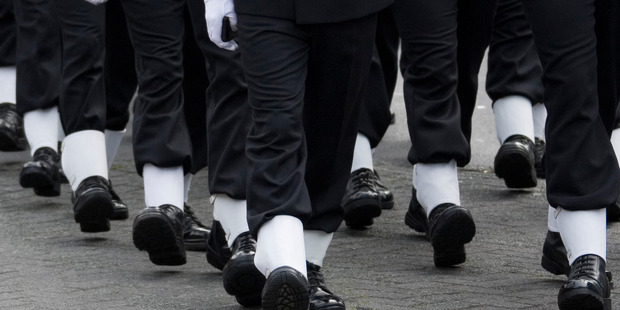 Long hours of answering questions about her ill-fated affair with a senior Defence boss drove a woman to breaking point late on the first day of a Court Martial at Trentham.
The woman - a civilian staff member who has name suppression - burst into tears and prepared to walk out.
"I wash my hands of being treated like this," she said during persistent cross-examination by defence council Michael Bott over her high number of telephone calls to Commodore Kevin Keat.
Stood down early this year from his position as assistant chief in charge of personnel at Defence Headquarters in Wellington, Commodore Keat, 55, has pleaded not guilty to eight charges relating to offences contrary to the Armed Forces Disciplinary Act.
The complainant said: You have broken "me."
As she prepared to leave the court, Chief Judge Chris Hodson asked if she would like an adjournment.
The tearful woman was then ushered out for talks with prosecution lawyers.
She regained her composure and the hearing reconvened 15 minutes later.
Cross examination was completed soon afterwards, and the judge said: "I know this has been an ordeal for you, and it is over now."
He excused her from further attendance, and warned her not to talk about the case.
The trial appears to be pitting the once happy pair against each other in bitterness.
She alleges he exercised power and control over her employment conditions when she tried to end their affair after several years.
Her accusations include bullying, harassment, stalking and threats to end her career.
The relationship apparently soured after she refused to any longer keep from declaring it on her security clearance form.
Commodore Keat had consistently lied about their romantic liaison and insisted she keep lying too, the complainant said.
She told the court that at one stage she handed him her written resignation and "he tore it up in front of my eyes."
After repeatedly insisting she wanted out of the relationship she finally ended it by telephone late last year.
Mr Bott said the complainant's view was different from that of the Commodore who insisted he ended the affair well before she claimed to have put a stop to it.
Commodore Keat would not deny "casual sex between October 2008 and about March 2010 on not more than 10 occasions.
"She, however, did not want to stop."
In her evidence the woman said; "I was in love with the man but he changed."
She accused him of trying to wreak revenge, adding: "What I have (now) is disgust."
The court martial is expected to last until the end of the week.