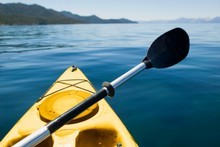 A 47-year-old man who fell out of his kayak off the Bay of Plenty coast was suffering mild hypothermia when he was rescued by a dinghy last night, police say.
The man's kayak sank when he went to retrieve a fishing device about 1.5km off Matata, 23km north west of Whakatane, about 5pm, Senior Sergeant Bruce Jenkins said.
Whakatane Coastguard were sent out immediately, while two volunteers from Matata Fire Service commandeered a dinghy which they launched from the beach.
The dinghy reached the man and supported him until the Coastguard arrived.
He was taken to hospital with mild hypothermia, but later discharged.
- NZPA