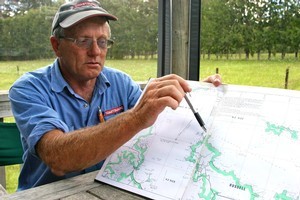 A woman clung to the side of a crumbling cliff face in the Bay of Islands for eight hours after becoming stranded in rising tides.
Chloe Shortland, 22, raised the alarm early yesterday by signalling with her camera flash from a narrow ledge at Tapeka Pt, north of Russell.
The same cliff, known as "lover's leap", claimed the life of a 29-year-old Auckland partygoer in 2009, who fell 60m from the cliff.
A local saw the camera's flash and contacted Russell Radio, a voluntary organisation based in the Bay of Islands, who then contacted emergency services.
Yesterday, Search and Rescue used spotlights to find Shortland and lowered clothing, food and water to her just after 3am. Rescuers decided it was too dangerous to try to reach her in the darkness.
An abseiler reached Shortland at dawn. She was lowered on to a dinghy and rowed to the Coastguard's vessel. They reached Russell about 6.30am.
Shortland, who was cold and shaken but otherwise unhurt, apparently became trapped after setting off for a walk from her nearby home on Tapeka Rd at 3pm on Friday.
She sent a text message to a friend but her cellphone battery died.
Rescue workers were amazed that the woman had managed to reach the ledge.
Bay of Islands Coastguard Kelvin Petrie said: "Even mountain goats would be struggling. I was surprised at how she'd managed to get there."
Senior sergeant Cliff Metcalfe said Shortland did the right thing by staying on the ledge and not trying to swim to safety.
"I wouldn't want to be trapped there, if you fell from the top you'd die," he said.
Shortland was last night recovering at the home of her parents, Colwyn and Kaye Shortland, who own the Pukematu Lodge in Russell.
- WITH NZHERALD STAFF