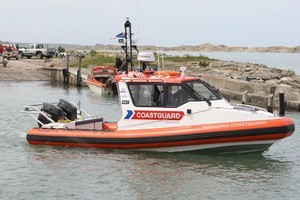 A couple fled their 5m launch at 3am yesterday, after it ran aground and split in half on an island west of the Coromandel Peninsula.
The Coastguard, which rescued the couple, is warning of a "surprising" number of boats running aground this month because of an undue reliance on GPS systems.
Coastguard duty manager Peter Seymour-Nash said the launch had "basically broken its back and split in two", forcing the couple to abandon ship on the boat's life raft.
"They didn't sustain any injuries, just shock more than anything."
Nash said one boat might run aground in an average week, but in the past two days nine boats had got stuck on shoals or rocks around the central and upper North Island.
While the majority of boats could be freed, he said occasionally one would motor into rocks and sustain substantial damage, as had happened at Moturua Island.
He cautioned boaties to not be overly reliant on GPS and encouraged the use of charts, especially navigating close to coastlines.