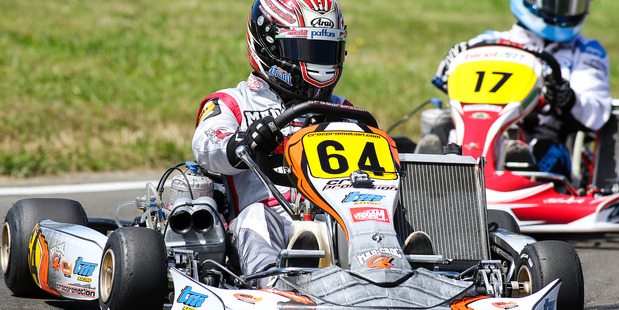 More than 80 of the country's top karters will descend on Rotorua this weekend for the annual Rotax Max Challenge/ProKart Series meeting.
Hosted by the KartSport Rotorua club the meeting sees racing on both days at the Amoore Rd, Mamaku, The Rock FM Raceway track with a double header (rounds 5 and 6) of the 2017 Giltrap Group Rotax Max Challenge, and the third round of the 2017 Molecule ProKart Series.
Outside of the National Sprint Championship meeting at Easter and North and South Island Sprint title meetings over Labour Weekend, Rotax Max Challenge/ProKart Series meetings are the biggest on the local karting calendar and attract drivers from all over the country.
With just one more double-header round of the Giltrap Group NZ Rotax Max Challenge (at Hamilton in August) to go, the main interest in that series is in the junior class where at least six drivers are in contention for the series title. The points leader is one of the growing number of top-level female drivers in this country, Rianna O'Meara-Hunt from Wellington, but a trio of Aucklanders - Ashton Grant, Joshua Parkinson and Callum Hedge - are snapping at her heels.
Jacob Cranston from Palmerston North is the driver to beat in the Rotax Light senior class, while Auckland pair CJ Sinclair and Jonathan Buxeda are first and second respectively in DD2.
Another Auckland driver, Ryan Urban again leads the DD2 Masters category.
In the Molecule ProKart Series, multi-time class title-holder Ryan Grant remains the man to beat but this weekend faces multiple challenges from the likes of recently crowned class New Zealand Sprint champion Dylan Drysdale from Auckland and Palmerston North-based former international Josh Hart who moves from the Rotax Challenge to the ProKart Series this weekend.
In the other ProKart Series races (for the combined Aarque Group KZ2 Masters & KZ2 Restricted classes) masters class points leader Andrew Hunt from Auckland will have Tauranga speedway super saloon driver Terry Corin and top local driver Darren Aislabie breathing down his back.
Defending restricted class title-holder Garry Cullum will also have his work cut out fending off Gerhard Benadie from Auckland and Wellington pair Shaun Anderson and Jamie Pollock.
There will be action on track both days from 9am and spectators are welcome. To find out more check out http://kartsportrotorua.nz.