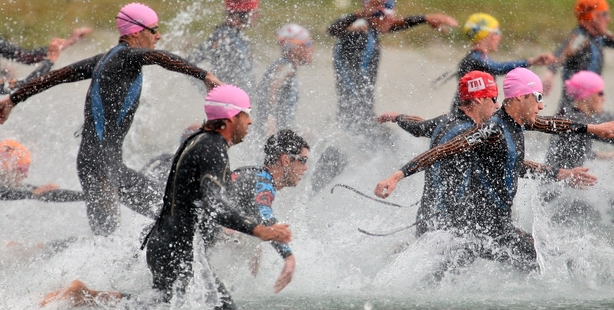 They say you need to lose one to win one.
The United States-based triathlete Michael Poole was crowned King of the Lake during the Eves Blue Lake Multisport Festival at the weekend.
It is the second time he has entered the event after finishing second three years ago.
"I really wanted to win and I was conscious that I had to race for every second so I didn't miss out again like last time," he said.
Meanwhile, 16-year-old Jamiee Leader won the Queen of the Lake title ahead of her coach and former world No 1 Samantha Warriner.
The multisport festival featured a three-race series with an aquathon on Saturday morning, a 2km swim on Saturday afternoon, and a sprint triathlon yesterday morning.
Poole trailed Taupo teenager Kyle Smith by 20 seconds heading into the final event yesterday.
A great race by Poole in the sprint triathlon saw him make up the time, thanks in part to Smith puncturing his tyre on the bike leg.
Poole said he missed out by the smallest of margins at the event three years ago and wanted to make up for it at the weekend.
"I did the event three years ago and I was 35 seconds behind the leader going into the last race.
"I made up 30 seconds ... and finished second."
He said it was a fun event at the weekend but he was pretty tired after all the racing.
Poole took part in another race in Auckland on Friday night, completing four separate races in 48 hours.
Rotorua's top finisher in the men's race was Matt Parsonage.
The women's winner, Leader, from Palmerston North, said racing against her coach helped drive her at the weekend.
"It is always nice to have a challenge with the coach pushing you," she said about Warriner, who finished second overall.
"She passed me in the bike and that was the hardest test today, to stay close to her."
Leader comes from a swimming background and said the event suited her well.
Most of the elite triathletes will be taking part in the Kinloch triathlon event next week which marks round four of the Kiwi Tri Series.
Rotorua's top finisher in the women's race was Lydia Hale.
The King and Queen of the Lake received a trophy, $500 and a jade pendant donated by Mountain Jade.
Hundreds of athletes took part in the multisport festival at the weekend.
Many opted to race in a single event rather than all three.
Swim Rotorua and a visiting swim team, the Taranaki Aquablades, both featured in the 2km lake swim on Saturday afternoon.