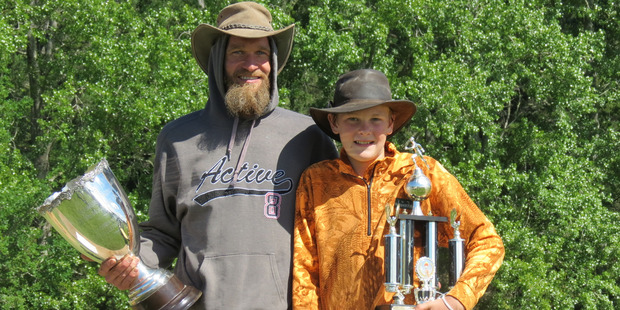 A Galatea father-and-son duo are over the moon after pulling off a feat rarely seen in any sport.
Sjors Corporaal and son Kaya Henderson-Corporaal, 13, won the titles of king and prince of the mountain during the 58th Kawerau King of the Mountain race at the weekend.
The race saw competitors running up and down Putauaki (Mt Edgecumbe), which stands 820m above sea level.
Corporaal and Kaya stole the show, winning the open men's and boys' races on Saturday.
"That has to be one of my most special races out of all the races I have done," Corporaal said. "I'm still over the moon about it."
Winning the race alongside his son was a great moment.
"I take him hunting with me and we have done the odd training run together leading up to the race."
The dairy farmer has won the event three times now, after starting mountain running about six years ago.
"I started running when I was 30 and ran this event for fun, then just got hooked into it ... I thought if I did a bit of training I might be able to take out some of these races."
Kaya won the boys' race last year as well.
The 58th Kawerau King of the Mountain Race featured strong junior and open fields.
In the men's race, Corporaal faced stiff opposition from last year's champion Chris Morrissey and Pomona King of the Mountain (Australia) champion Ben Duffus.
Morrissey reached the summit first in 33.39 minutes followed by Corporaal, who reached the summit in 34.15 minutes.
Duffus had dropped off the pace into fourth with surprise package Lance Downie edging into third.
The downhill race was incredible. Corporaal hunted down Morrissey and got a glimpse of the leader at the skid site just before the final drop off to the compound.
Corporaal caught Morrissey at the compound and began a duel for the lead.
He broke Morrissey's resilience and pulled away to claim first in a time of 47.55 minutes, ensuring a father-son double for the day after Kaya won the boys' race.
The women's race went the way of defending champion Helen Rountree from Hamilton.
The battle for queen was an exceptional showdown between two of New Zealand's finest trail runners, Rountree and Ruby Muir.
Rountree smashed her 2012 time and in doing so earned a sub-60 minute time of 59.14.
The 21-year-old Muir came home in 59.44 minutes. Both times marked incredible performances.
The title of princess of the mountain was won by Kawerau's Jayda Stewart, in the girls' race.
Twelve runners made the sub-60 minute hall of fame during the King of the Mountain event.