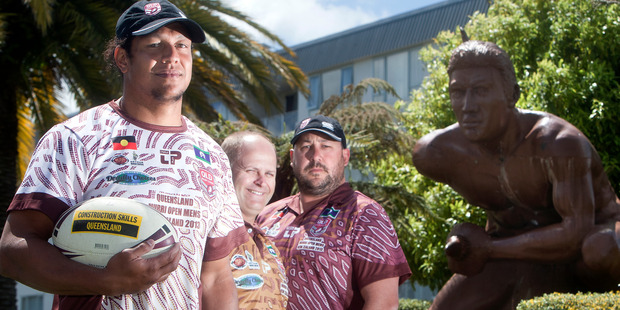 Rugby league is set up a little differently in the northern-most parts of Queensland.
Just ask Bobby Nona.
Nona will captain the Murri Queensland Indigenous team tomorrow in their match against the New Zealand Maori XIII in Rotorua.
Four or five of the players in the indigenous side hail from islands between Queensland and Papua New Guinea.
Badu Island resident Nona said things were done a little differently in that part of the world.
He said players would travel for hours in dinghies to play in the inter-island competitions.
"A lot of them will follow the stars at night to get home," he said.
"If it is low tide you have to go right around the reefs but if it's high tide you can go straight over [the reefs]."
He said there were four teams on three major islands - Badu Island, Moa Island, and Thursday Island - and the locals simply loved to play rugby league.
Nona said representative sides like the Murri Queensland Indigenous team gave a lot of people in the area, and right across Queensland, something to aspire to.
"It is a big privilege to captain this team. [The team] was announced on our Facebook page and a lot of my family follow that page, so they were really happy," he said.
He said the indigenous team was selected from a massive aboriginal rugby league tournament called the Arthur Beetson Carnival, which is aired on national television in Australia.
Teams from all across Queensland attend the tournament.
"I have kids come up to me and nieces and nephews because they watched the [tournament] last year, they are so proud of me," he said.
"The best thing is it gives those kids something to strive for. So rugby league is opening a lot of doors."
The Beetson Carnival and the current tour are both supported by the Arthur Beetson Foundation, named after the rugby league great.
Tour organiser Troy Byers said most of the players in the 20-man squad came from outside the big centres like Brisbane.
Tomorrow's game will feature NRL players like Sam Rapira in the Maori side and Queensland Cup players in the indigenous side.
The match is the final fixture of a two-game series, with the first match going the way of the New Zealand Maori.
The Murri Queensland Indigenous side also brought over a dancing group who will perform before the feature match at Puketawhero Park.
The game starts at 3.30pm tomorrow and entry is $5.
A big crowd is expected down at the park tomorrow, with the Labour Weekend Maori tournament also being held at Puketawhero during the weekend.