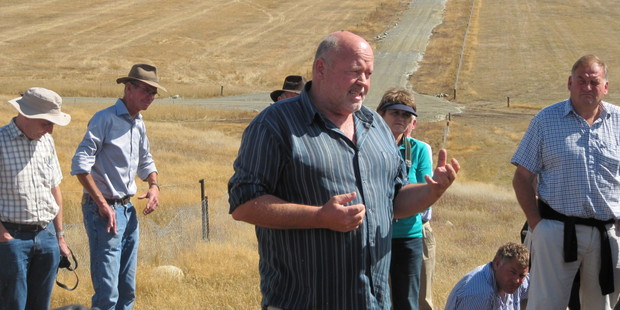 "It would be absolutely marvellous if you were all involved".
Those words, spoken by Dame Margaret Bazley to around 140 participants at the 2014 Federated Farmers' High Country field days last month summed up a recurring message of the day.
A mutually satisfactory solution is more likely through talking with people rather than at them.
This theme was first raised by Federated Farmers' National Vice President, Dr. William Rolleston, when he explained how the 2013 Mackenzie Agreement was developed as a result of 22 widely differing organisations talking with each other.
The first part of the day entailed looking at properties within the Benmore irrigation scheme distribution area. Irrigation company spokesman, Barry Shepherd, provided figures to indicate the value of the scheme to the community.
In 2005, the early days, it supported six farms and seven families with a gross turnover of $5 million. By 2012, this had increased to eight farms, 23 families and a gross turnover of $26m.
The convoy of vehicles then drove across the Quailburn flat to Ribbonwood Station for lunch which was followed by addresses from the Labour Party primary industries spokesman Hon. Damien O'Connor and the Department of Conservation's Barry Hanson.
Barry's title also reflects the "theme" mentioned earlier. It includes "Partnerships Director" and the thrust of Barry's presentation explained the partnerships concept. DOC now recognises that it cannot achieve its objectives on its own.
"We haven't got all the answers and need to work with you, our neighbours," he said. DOC and landholders can achieve so much more by accepting each other's values and strengths.
After lunch we drove up and over the Ribbonwood Saddle with some truly spectacular views of Lake Ohau and its many-peaked backdrop before descending into the Ahuriri Valley.
From here, a short detour to Tara Hills before arriving in Omarama for the final presentations and well earned food and refreshments.
ECan Chairperson, Dame Margaret Bazley, was keynote speaker later in the day and her aforementioned comment was just one of many encouraging statements she made. Perhaps, though, the most pleasing of them all was an email received from her a couple of days later:
"I'd like to thank you and all the Federated Farmers members for such an informative and enjoyable day in the High Country ... It was great to have the opportunity to spend some time with so many farmers, to hear their concerns, and to be able to talk to them about Environment Canterbury's Land and Water Plan. ... I was amazed at the huge turnout of people (and vehicles), and the scenery was spectacular. Again, thank you for inviting me to be part of your day."