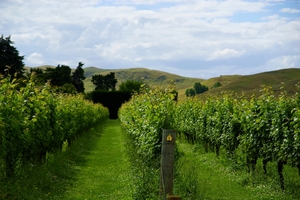 Grape production in the Gisborne district is set to increase substantially with two major companies expanding.
Indevin Partners have launched a $5 million Gisborne-Hawke's Bay "Revive" redevelopment project at Patutahi Estate, and LeaderBrand also plans to expand its vineyards over the next one to five years.
Indevin's plans include some expansion planting and some replacement planting.
The company will plant about 200 ha of vines over the next four years.
About half a million new vines will go into the ground in Gisborne and in Hawke's Bay, where Indevin also has vineyards.
"About 70 per cent of the development work is in Gisborne," says Indevin regional vineyards manager Andrew Blakeman.
"Most of it is chardonnay but there will be some pinot gris as well," he says.
"It is big news for Gisborne because most of the $5 million we are spending on the development is being spent here."
Geoff Thorpe from Riversun Nursery is providing the new vines.
"Once we buy the vines, most of the expenditure is on labour to actually get them in the ground, and care for them through to full production while they grow," Blakeman says.
Indevin believes all the indicators are pointing to increased demand for wine.
"We are planting and upgrading now to meet that demand," he says.
To mark the launch, the independent winemaker's staff gathered at the property to carry out some initial planting.
"Each of us planted a vine as a symbolic gesture, a celebration of the start of the 'Revive' programme."
Planting has begun on ground that has been empty of vines for four to five years.
"Our ongoing programme will then also involve pulling out some vines next autumn and replanting that ground with the new stock in spring."
Blakeman says as part of the upgrade they would also standardise all the trellis spacing in their vineyards.
"The gap between rows is going to be 2.4m as opposed to the current 3m standard.
"That means we will have to pull out all our trellis and replace it."
They would try to use local suppliers and contractors to do that work wherever possible, he says. "That work is also part of the $5 million upgrade.
"A programme is in place to do that work over the next four years."
The works come after three difficult years for the industry and is a sign of growing confidence in the future of New Zealand wine.
Gisborne winegrowers president Doug Bell, welcomes the projects, describing them as "excellent news for Gisborne".
Bell says the developments are encouraging.
"I agree it's good news to see Indevin continuing to invest in the Gisborne region."
It shows the confidence they have in the district, he says.
"It also shows the confidence they have in the long-term future of the wine industry here."
Bell says that was further excellent news for Gisborne.Gisborne Herald