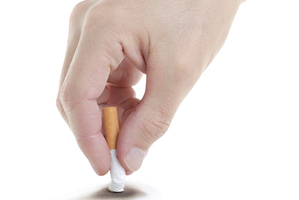 THE other day I got really excited when I saw a Facebook post suggesting there will be a $250 fine from 2014 for anyone caught smoking cigarettes in a car with passengers under the age of 18.
The memories of smoke wafting in my face from my (lovely but not very thoughtful) father when I was a child came charging back. I remember dreading the long trip from our farm into town as a family as Dad would always light up.
The Facebook post was followed by several comments from people saying things like "good on you New Zealand" and "about time".
I was a little baffled why I hadn't heard anything more of this in the news, so yesterday I did some checking. It seems the post was overzealous and there hasn't been a law change, and sadly doesn't look like there will be one any time soon.
A spokeswoman from the office of Associate Health Minister Tariana Turia said "there would be no legislation relating to smoking in cars and the Government has indicated that it prefers non-legislative measures to address this issue".
Sorry, but that won't work.
Smokers can be a stubborn bunch and unless you legislate, they won't change.
In August Mrs Turia said she wanted to make smoking in cars with youngsters on board illegal as New Zealand steered towards being a smokefree country by 2025. She said she wanted that first step to become law before she left office next year.
The proposal has already outraged libertarians, but the facts are clear: smoking around young children is dangerous for their health and simply not pleasant.
Young people aren't in a position to tell their parents or guardians what to do, but the law can.