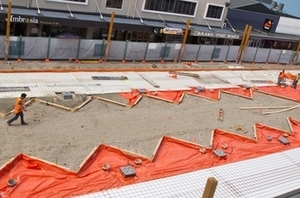 Work on our fancy new Eat Streat is progressing well and should be ready by Christmas.
That's great news, especially when you look at the state it's in now.
As spring weather is delivering us some cracker days, I couldn't think of anything more enjoyable than heading down to Eat Streat to sit outside in the sun and enjoy a lovely meal and a glass of wine.
While there are some outdoor tables, the entire middle part of the street is currently a construction site.
That's okay, for now.
The $2 million Rotorua District Council project will see the temporary outdoor dining precinct turned into a permanent structure. It will include a covered central walkway with retractable roofing over dining areas and underfloor geothermal heating and lighting.
We are being promised something quite spectacular once it's finished and I for one can't wait.
However, I am a little concerned we are being told it should be ready by Christmas as planned. I'd feel more comfortable if we were told it will be ready by Christmas.
If this isn't up and running smoothly by the time the holiday period kicks in, it will go down as one of the biggest stuff-ups in recent times. But, so far so good and even the businesses down there seem happy campers, despite the obvious initial downturn.
Ambrosia Restaurant and Bar owner Kris Beehre has told us while his business was suffering from an estimated 40 per cent loss in patronage, the end result will be worth it.
Let's hope so for all those businesses' sakes.