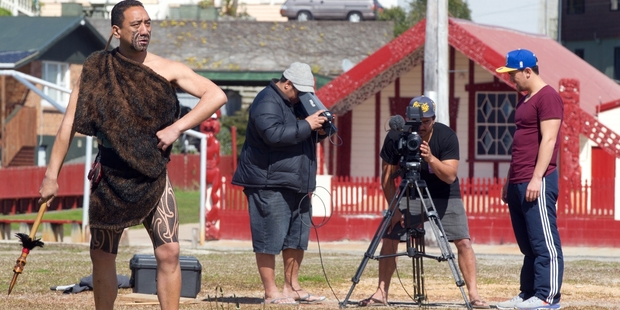 A film crew has been exploring the history of a Rotorua marae for an upcoming series on Maori Television.
Tunohopu Marae in Ohinemutu was yesterday the focus of the te reo Maori show, Whare Taonga.
The programme travelled throughout New Zealand and examined aspects of design and construction of marae as well as its cultural and historical significance in the community.
Director and Rotorua local, Tihini Grant, said they were filming as part of the Scottie Production team and had spoken with many familiar Rotorua names who call Tunohopu their own.
"We've interviewed Scotty Morrison, Kingi Biddle, David Rangitauira and Norma Sturley.
"We're also hoping to tee up some interviews with kuia to get some anecdotal stories," he said.
Mr Grant is a former Lakes High School student and had been working at Television New Zealand in Auckland for five years before moving back home.
He said Tunohopu Marae held a special place for many people in Rotorua.
"It's hard to believe it's 13 years shy of 100 years old as it's been so well kept," he said. "We have the main Te Arawa marae of Tamatekapua up here, but it's been interesting to hear the role that Tunohopu plays, especially holding tangihanga [funerals]," he said.
"As far as the local community and the village of Ohinemutu are concerned, it's closer to the heart of the people here than the big iwi-held events."
The film crew is also expected to explore the history behind Tutanekai Marae in Owhata over the next couple of days. The episode will be part of the third season of Whare Taonga which will screen on Maori Television early next year.