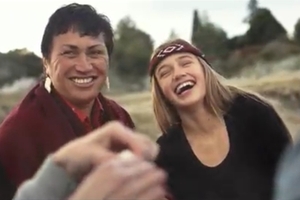 Te Puia is set to be showcased to the world, taking a starring role in the latest Tourism New Zealand 100 per cent Middle-Earth, 100 per cent Pure New Zealand campaign.
The new 60 and 90-second commercials include Te Puia's geothermal wonders, Maori culture and cuisine highlights.
The new campaign was released online on Thursday with the 60-second advertisement set to run in cinemas, print, online and outdoor advertising across Tourism New Zealand's key target markets. The campaign began in Germany.
It is designed to align with the release of the second instalment of the Hobbit movie trilogy, The Hobbit: The Desolation of Smaug, which will open worldwide at the beginning of December.
The movie is due to open in New Zealand on December 12.
Te Puia general manager sales and marketing, Kiri Atkinson-Crean, said Te Puia was absolutely thrilled to be involved in the campaign.
"The commercial is a key component of Tourism New Zealand's international marketing focus for the next three years and all of the areas and attractions featured in the advertisement will gain worldwide exposure and recognition as a result.
"It is simply an outstanding opportunity for us to get in front of our international target markets and to be able to position ourselves in an exciting new context around the movie."
Ms Atkinson-Crean said while Te Puia's involvement in the campaign was significant from a tourism marketing aspect, it also provided a unique opportunity for Te Puia's staff to play a role in the commercials.
"We love what we do every day, but the film shoot certainly added a whole new experience for our people."
The 60-second advertisement features New Zealand Maori Arts and Crafts Institute carver Jeff Ruha, who took on a new role as a "chef", along with long-term Te Puia guide, Kirimatao West and her daughter Arohanui.
The pair are not the only members of the family who will be featuring on television this year, with oldest daughter Te Rina being chosen as the "face" for Destination Rotorua's upcoming domestic marketing campaign.
Ms Atkinson-Crean said the campaign's location scouts visited Te Puia in the weeks leading up to the shoot to pinpoint the exact locations and "stories" that they wanted to tell. They were followed by the directors, producers, film crew and "extras", who filmed the advertisement over a two-day period.
"Both the 60 and 90-second advertisements are an amazing advertisement for Aotearoa New Zealand, but also for Te Puia and Rotorua."
The 60-second commercial can be viewed at http://www.youtube.com/watch?v=NhnSsM40loA