Chris Newman doesn't normally do art in the rain, but with a tight timeframe in which to complete his latest Rotorua icon he braved the drizzle yesterday to put the finishing touches to Wayne "Buck" Shelford.
The Rotorua artist said while he usually waited until the sun was shining to paint, he was heading back to Whitecliffe Art School in Auckland next week to begin his second year of a graphic design degree.
Mr Newman, also known as "Noomz", is one of a number of local artists who are part of a Chorus-commissioned project to decorate the "most frequently tagged" Chorus cabinets around Rotorua.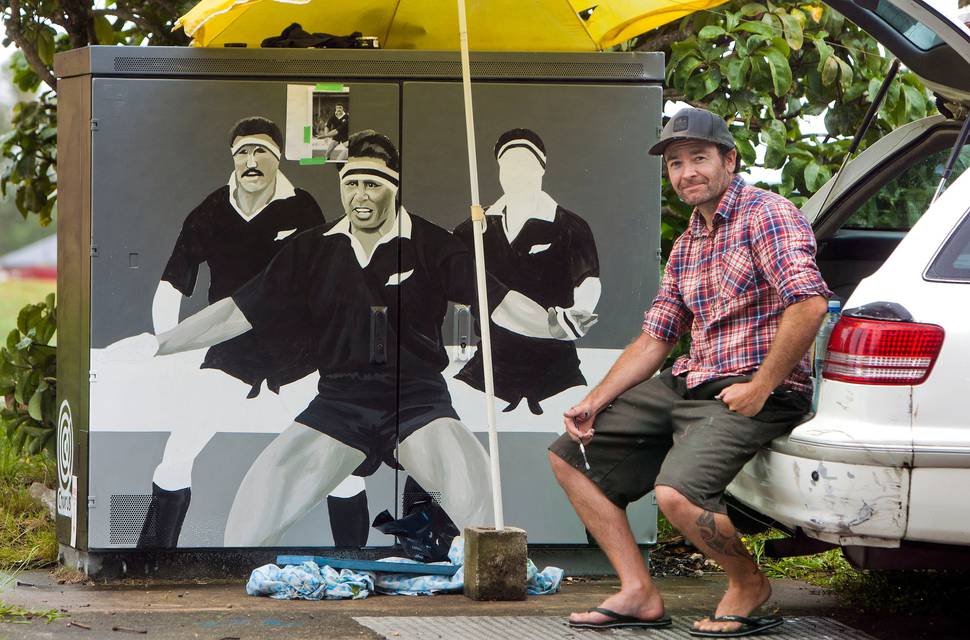 "It's to cover up the ongoing vandalism these boxes are sometimes subjected to - and beautify them, of course."
After the boxes are painted they are given an anti-graffiti clear coat on top and "tend to be left alone".
The "modern-urban style" painter said he was limited to what he could do outside because the art was under the elements all the time.
Shelford is the latest in a line of Rotorua icons painted by Mr Newman around the city, joining Jean Batten, Sir Howard Morrison, Cliff Curtis, Don Stafford, Joe Horvath, Steven Adams and (completed just last week) Valerie Adams.
They were people who had gone on to be good role models for kids, "someone to look up to and be inspired by", he said.
Shelford, a former Western Heights High School First XV player, captained the All Blacks until he was controversially dropped in 1990, initiating the "Bring back Buck" chant, a call still sometimes heard at matches.
"New Zealand didn't lose a single match during his captaincy," added Mr Newman.
Painting was a "hobby" for this street artist until four years ago when he decided to take it more seriously and make a career out of it, he said. "Some people read a book ... I'd rather be painting."
He said he liked using different mediums and experimenting with ideas. To see more of Mr Newman's work go to www.facebook.com/noomz.art.