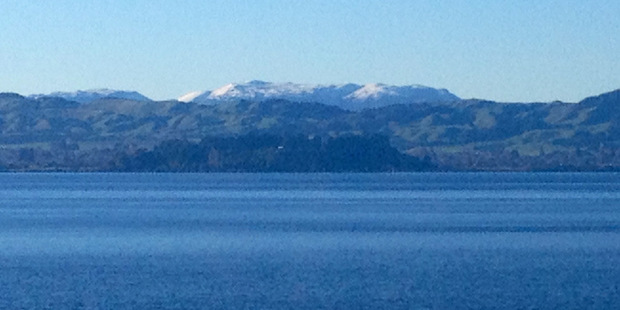 Mt Tarawera was left with a dusting of snow this morning as Rotorua residents shivered their way through one of coldest nights of the year - and tonight is meant to be even colder.
Local weatherman Brian Holden said the temperatures had finally dropped, made all the more painful after a June that was about 2C warmer than normal.
There was also a light dusting of snow on Mt Tarawera this morning - enough to have visitors reaching for their cameras to capture the "beautiful" view, according to Kruti Desai of The Landing Cafe.
"It was just beautiful, and awesome view."
Mr Holden said the weather was "certainly snowy" and had probably come as more of a shock after the warmth of June.
Metservice meterologist Peter Little said looking at the photos the consensus was that it looked like snow on the mountain.
He said Rotorua residents were likely to have experienced an even colder night tonight - with a -1C frost expected - while temperatures would warm up a bit over the weekend.
Mr Little said it was like "a switch" once we entered July with more cold southerlies.
But that's good news for those who want to hit the skifields this school holidays.
Mt Ruapehu spokeswoman Annah Dorsett said beginners area at Turoa skifield, Alpine Meadow, opened today and Whakapapa's beginners area, Happy Valley, was expected to open on Saturday.
She said they were waiting for staff to get up the mountain and assess conditions for track making further up - which was being done on an "hour by hour" basis.
Ms Dorsett said the snow had certainly made a big difference to the outlook with more than 10cm of fresh snow in the base areas and good conditions for snowmaking with the snow guns working throughout the day.
The snow came just in time to allow them to open up areas of the mountain for school holidays, after they initially had to delay opening.
"Mother nature certainly kept us on our toes this year."