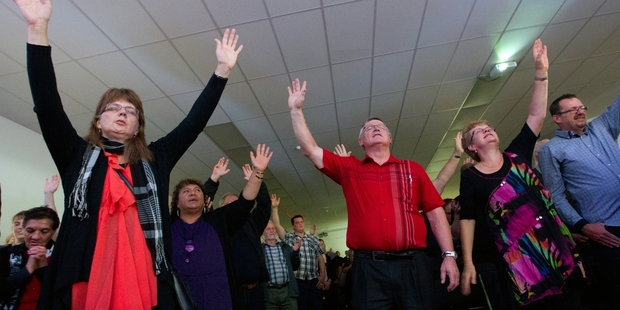 Don't just read the scriptures - live them. That was the challenge issued to the hundreds of people who attended yesterday's Good Friday Service co-ordinated by the Rotorua Christian Ministries Association.
The terrible weather might have forced a venue change from the City Focus to the indoor venue of the nearby Elim Church, but it didn't stop the people from coming, with about 500 packing into the venue.
With no seats left they packed the auditorium and flowed out into the adjourning art gallery, singing, praying and remembering the reason behind Easter.
Harvest Apostolic Church Pastor Dave Moore, who delivered this year's message, spoke on the theme of the crowd's choice to release the criminal Barrabas and call for Jesus to be crucified.
He challenged the crowd to ask themselves what side they would have been on - and whether there had been times in their lives when they had been swept along with the crowd even though they knew it wasn't the right thing to do.
"Sometimes things get back to front. Jesus came to turn the things the right way again."
He said Good Friday and the Easter period was a great time to renew a commitment to Christ.
Meanwhile, Ngongotaha's 10th Procession of the Cross celebration managed to make a start in a brief window of fine weather before the rain came down.
During the popular event the crowd walked through the village behind a large Christian cross, stopping to sing hymns or read passages from the Bible.
Event organiser Marinus Koppe said he was pleased with the turnout of about 40 people.
He described the fine weather at the beginning of the service as a "gift from God" and said the 10th anniversary meant they had even more to celebrate than usual.