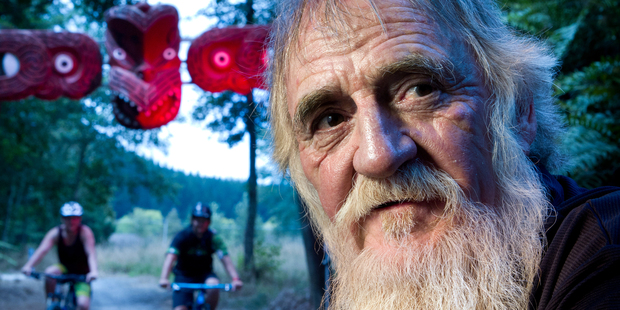 By Mike Watson
If you are naughty and break the law, it is possible you might end up swinging a pick or shovelling dirt in one of 'Red' McHale's Correction Department community service work gangs.
Red - real name Malcolm but christened Red due to his red beard by offshore drilling rig workmates in the South China Sea - has supervised and tutored thousands of men sentenced to community work for various misdemeanours.
"I've had people who have been university graduates with double degrees to fully patched gang members," Red says.
Red has become an institution himself since he offered the department's services to provide the "donkey work" building mountain bike tracks in Whakarewarewa Forest two decades ago.
As mountain biking has grown in popularity and accessibility, the track building skills of Red and his community work crews have developed to meet demand.
As the Rotorua Bike Festival draws near his work will inevitably come under closer inspection from more visitors.
In the early days it was matter of cutting a path from A to B, he says.
Now Red gets to add a bit of his artistic landscaping skills off-track without taking away from the beauty of the area.
Walking on part of the dual-use Hemo Gorge track - one of the more recent additions to the network of trails which crisscross the forest like spider webs - it's not hard to see the passion he has about his creations.
"It's my canvas you could say and I have an artistic licence to create something to make it enjoyable for people who use it."
The "people" of course are in the main mountain bikers but the Hemo Gorge track between Te Puia and Waipa Mill Rd carpark also provides an accessible 1.6km link for walkers.
He uses any feedback to add berms and shoulders or improve drainage on the tracks.
"I was here on Sunday morning and came across a 92-year-old taking his morning walk," Red says.
"He had been dropped off by his wife near Te Puia and he was walking through to meet her at the Waipa carpark."
Red and his crew, equipped with chainsaws, crowbars and shovels, spent "months and months" cutting through blackberry to form the track.
Every day was spent removing wheelbarrow loads of heavy clay, prising rocks out of the way ready to pack down a rideable surface above the Puarenga Stream.
The crews shifted dead trees and wheelbarrowed concrete down to the stream to build a tranquil seating and swimming area near a waterfall.
"It was hard labour, we worked every day, even when it was raining."
No-one shirks the workload, he says.
"Some Correction teams clean off graffiti or pick up rubbish beside the highway but everyone seems to want to get chosen for my crew," he says.
"I think it's because they are proud of the work they do and I appreciate the effort they put into it.
"They work very hard and the final result is testament to their dedication."
The 5500 hectare forest has become Red's second home - he walks with his wife or exercises his son's dog on his days off.
"It's a spectacular place, there are hundreds of hidden gems in there."