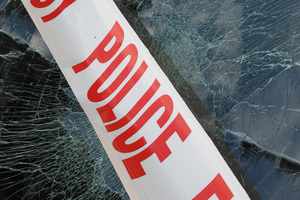 Six people who were trapped in van which crashed 40m down a bank off the Napier-Taupo Rd have been rescued.
Police said the six passengers were winched up the bank by helicopter after being extracted from the van by emergency services.
One passenger was in critical condition, while the others had serious injuries.
The van crashed carrying eight people, but one seriously injured man was able to escape and reach the road carrying a six-month-old baby, and wave down a passing motorist for help.
Police senior sergeant Marc Clausen said all off the trapped passengers had now been removed from the van.
They were being taken by helicopter to Hawke's Bay Regional Hospital.
Rescue helicopters from Hawke's Bay, Taupo and Rotorua were assisting with the rescue, along with police, fire and ambulance crews.
The Napier-Taupo Rd was still closed at the crash site, near Te Haroto, and expected to remain closed until about 11am.
Mr Clausen said more details on the occupants of the van would be available shortly this morning.
Jim Andrew from the Tarawera Cafe, on the Napier-Taupo Rd, said traffic was backed up for about 1km on each side of the crash scene.
He said the cafe, about 3km away on the Taupo side, was "full up" with stuck motorists.
"We've got a few up here from the Taupo end trying to get through," he said.
"The Napier end is blocked off and our staff are blocked off with it."- APNZ