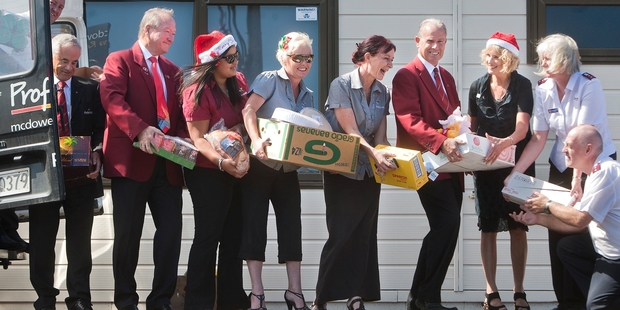 Residential house sales dipped momentarily as staff from a Rotorua real estate firm downed cellphones and calculators for a few hours to give to the Rotorua Daily Post Christmas Appeal for the Salvation Army food bank.
About 40 staff from Professionals McDowell Real Estate clambered into cars yesterday morning to deliver more than 350 cans of food and toys to Salvation Army Church on Old Taupo Rd. The Professionals Rotorua spokesman Phil Guilford said the response was "overwhelming".
"All I did was send an email around the office and waited for the replies," he said.
"Everyone felt pretty lousy when the church was broken into last week that they just wanted to make up for it.
"The company takes part in a number of community projects in Rotorua and the food bank appeal is really satisfying to be involved in."
Professionals McDowell Real Estate is among an increasing number of organisations and individuals donating towards the appeal as it nears the deadline on Monday.
Among the recent donations have been the Rotorua District Library, The Warehouse, Top Kid's Pre-School, and Ngongotaha Four Square Supermarket owner, Sailesh Patel.
A group of 50 fitness fanatics will put their bodies on the line as they undertake an arduous two-hour burpee challenge over 100 and 500 metres at the Westbrook rugby fields, off Devon St from 6pm tonight.
Renata Curtis, of Te Whare Tu Taua o Matarua, said the large group hoped to fill a trailer with donated food.
The total donations collected in the past month will be tallied up on Monday with the final amount and a list of donors published in the Rotorua Daily Post on Tuesday.
*Donations to The Rotorua Daily Post Christmas Appeal for the Salvation Army food bank can be made at our Hinemoa St office between 8am and 5pm weekdays. Food donations can also be made at the Salvation Army's Community Ministries at Community House on Haupapa St.