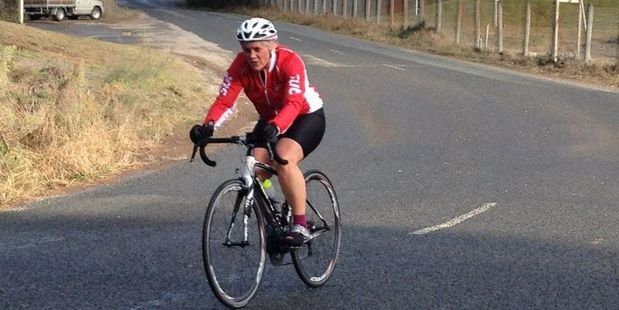 A Rotorua cyclist is in an induced coma after a collision with a vehicle at a busy intersection, one of two crashes involving cyclists yesterday.
Carol Harwood was cycling with her partner Sarah Pitcher-Campbell at 6.25am when she was hit by a Toyota Hilux at the intersection of State Highways 5 and 36 near Ngongotaha. She is in intensive care at Rotorua Hospital in a serious but stable condition with head injuries.
Around 10.30am Craig Robertson was knocked off his bike on Gordon Rd. He was treated at Rotorua Hospital and discharged. All three were in training for this weekend's Lake Taupo Cycling Challenge.
Rotorua police road policing manager Sergeant Pauline Jones said the driver in the Ngongotaha crash would be charged but the type of charges depended on the investigation and injuries sustained.
"The car clipped the back wheel of the bike and the cyclist came off," she said.
Ms Pitcher-Campbell said she and her partner were at the start of a 45-minute "cruisy" ride from their Kawaha Pt home.
They were cycling towards Ngongotaha through the roundabout when Ms Harwood, who was following, was hit by the Hilux, which was entering the roundabout from State Highway 5.
"It was awful," she said.
"I could see him as I came through the roundabout, I looked behind to check Carol was okay and she got hit. She was knocked out and was shaking and when she came round she wasn't herself."
The driver of the Hilux called 111, she said as she and her partner had left their cellphones at home. A paramedic and two nurses on their way to work stopped and helped.
"Carol has been in training for a year for the race this weekend. This was going to be her first cycle challenge, she did the K1 last month and a 150km training ride on the weekend. This morning was just supposed to be just 45 minutes, just a cruisy ride."
She was unsure if she would still take part in the elite women's 100km race; last year she finished 10th.
Mr Robertson said he was hit on Gordon Rd as he went for a final training ride around the mountain. He said he suffered soft tissue damage to his ankle and has cuts and bruises.
"The doctor has said no to me riding this weekend," he said.
"I've been training for months and I'm a bit gutted but I will try for next year."
Coroner Gordon Matenga recently released a review called Cycling Safety in New Zealand, examining a spate of 13 cycling deaths in 2010 and taking into account the deaths of 94 cyclists since 1997.
Mr Matenga also recommended a panel be put together to make recommendations on preventing further cycling deaths and improving safety.