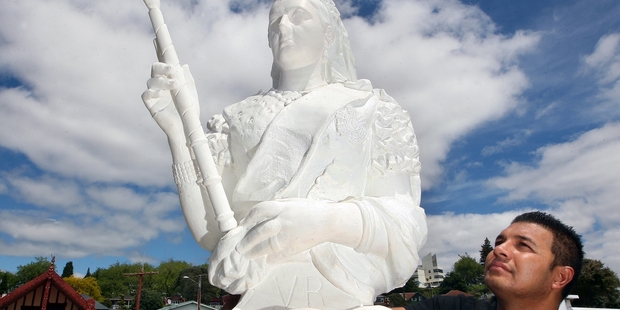 The colourful history of a Te Arawa treasure will be revealed during a lecture at Ohinemutu this weekend.
A carved bust of Victoria, former Queen of England and Great Britain, was given to Te Arawa in 1875 to honour the tribe's efforts as an ally of the British Empire during the New Zealand Wars.
University of Otago Department of History and Art History Associate Professor Mark Stocker will present the lecture - Kuini Wikitoria: The Adventures of the Queen Victoria Carving at Ohinemutu - from 1pm this Saturday in the Whakaturia Conference Room inside the grounds of Tepapaiouru Marae.
Mr Stocker said the hardwood carving was made by an unknown Italian craftsman after being commissioned by the New Zealand Government and Agent-General Isaac Featherston in 1873.
A carved pedestal for the bust was made by Patu Whitiki of Horohoro in 1900, along with a canopy made by Tene Waitere, which stood within the grounds of the marae for many years.
"The carving ... is an amazing artifact that has been through many changes of fortune in its 140-year lifespan.
"Easily the earliest portrayal of the Queen in Aotearoa New Zealand ... she took a long time in coming and the Parliamentary Library wanted to keep her, but persistence paid off and she was installed in Tamatekapua Meeting House before being moved again in 1900," Mr Stocker said.
The carving was stolen and damaged by Maori activists in the mid-1990s before they returned it about two weeks later without the crown.
Mr Stocker said his research findings would be published as an essay in a Manchester University Press book, New Zealand's Empire, due to be released in 2015.
He said he welcomed the opportunity to take his knowledge back to where it all started and share it with anyone interested.
Ohinemutu kaitiaki (guardian) Shaloh Mitchell said he wanted to restore the carving to its former glory.
Mr Mitchell said ideally he wanted to get a bronze cast made of the bust to be permanently displayed at the marae with the original given to the Rotorua Museum.
He said the last time it was seen in public was at a ceremony for 28th Maori Battalion war hero Haani Manahi when Prince Andrew visited Rotorua in March of 2007.
Since then it has been kept in storage.