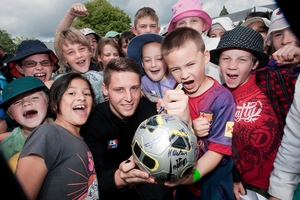 Two Scots will be at the heart of WaiBOP United's debut match at Rotorua International Stadium.
Scottish import Andy McNeil, who has represented the Southampton Football Club, will stand between the sticks in tomorrow's match against the Canterbury Dragons.
The match marks the competitive debut for new football franchise WaiBOP United, who play in the ASB Premiership.
The premiership is New Zealand's top domestic football league and runs from this weekend through to March 2014.
Goalkeeper McNeil has played for a number of professional clubs in Scotland and even won a prestigious knockout competition, the Scottish League Cup, with Hibernian in 2006.
Meanwhile, fellow Scotsman and WaiBOP head coach Peter Smith will be calling the shots from the sideline.
Smith, McNeil and three other players visited Otonga School yesterday to raise the profile of the sport and club in Rotorua.
"It is one of those things we are trying to do which is incorporate the whole region," Smith said, while signing autographs for hundreds of children.
"We are trying to get it to be a real provincial club."
He said former national league franchise Waikato FC were mainly Hamilton based but they wanted the new franchise to incorporate more of the Bay of Plenty, which included playing their first game in Rotorua.
Otonga School pupil Byron Macrae, 6, had his ball signed by the players and coach yesterday.
The Otonga Comets player said he wanted to play professional football one day because "soccer is fun" and he liked scoring goals.
McNeil said he enjoyed going along to the school yesterday.
"We are representing the whole region so it is important to get everyone involved," he said.
The WaiBOP squad were full of talent and enthusiastic players so it should make for a good side this season.
McNeil, 26, joined the club after deciding to take a break from professional football in Europe.
"I've been a professional footballer for 10 years and it is a 24/7 job, so it is good to be able to use your skills to travel," he said.
"Also, Peter [Smith] is starting a new team and I thought it would be good to be a part of something like that."
WaiBOP United will be captained by All Whites defender Aaron Scott tomorrow.
The ASB Premiership game starts at 1pm tomorrow at the Rotorua International Stadium.
The curtain-raiser match will see WaiBop Football Women's team play their Canterbury counterparts at 11am.
The women's team include Rotorua United players Alice Bennett and Amanda Wilshier.
Tickets to the game are $10 for an adult, $5 for students and pensioners, with children under 13 free.