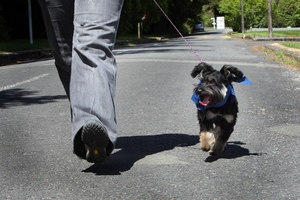 Does your dog bear a striking resemblance to you? Or could it be just a little bit possible that you look a bit like your dog?
There will be no need to wonder after the annual Rotorua SPCA and VETPlus Dog's Day Out event at the Scion grounds on Sunday.
The event promises to be fun for all canines and their owners with walks, activities and competitions - including an owner "lookalike" contest - during the day.
The day out has been running for about 10 years, said Rotorua SPCA marketing and fundraising manager Melanie Davies.
"The owner lookalike is one of the competitions which we organise and it is usually the most amusing for everyone there," she said.
"It's a really well supported day and people enjoy it so much they come and ask when the next one is going to be held six months out."
Last year the event drew 300 dogs with their owners - raising about $3000 for the organisation.
There will also be competitions to find the dog with the waggiest tail, the best yodel and the best bark. For the two-legged owners and their families there are facepainting competitions, cake stalls, cold drinks, sausage sizzles, as well as pet food stalls and animal health tips.
Some dog owners have also given permission for their dogs' pups to be cuddled.
The SPCA relied on donated funds collected from the day to help care for animals brought to the shelter during the year, Ms Davies said.
"We are not government funded so anything we collect on Sunday will be used to help contribute towards our annual expenses."
The $5 donation will be used towards vet costs, food, de-sexing, de-fleaing, ambulance service, power and general running costs at the shelter.
All dog owners should be at the Scion grounds at 9.30am to register, before all the dogs are taken on a walk around the Redwoods at 10.30am, she said.