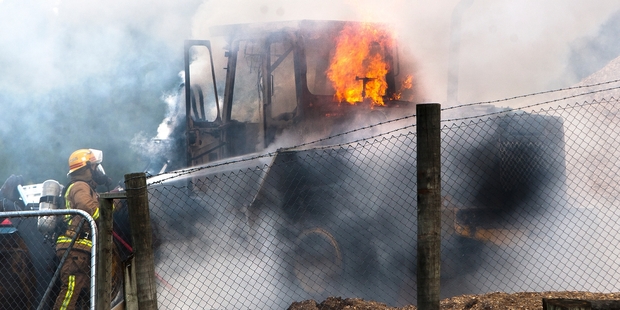 An electrical fault underneath the cab is believed to be the cause of an earthmoving digger catching fire at Waiariki Institute of Technology's Waipa campus.
The digger was engulfed in flames when Rotorua Daily Post arrived at the scene as firefighters fought the blaze watched by staff and students standing 30m back.
Rotorua Fire Brigade senior fire officer Jeff Carter said the driver had parked up the digger after noticing a burning smell. "He went to get an extinguisher and when he came back it was well under way."
Staff and students had also attempted to put the fire out with extinguishers before the fire service arrived, he said.
"It was panic stations for the staff for a while until we got there and put a couple of hoses on it and chucked some water at it."
The fire service took about half and hour to put out the flames, he said.
The blaze happened about 3.15pm.