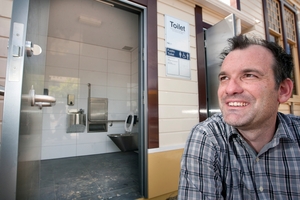 A new 24-hour public toilet outside the Rotorua District Council's visitor centre and i-Site on Fenton St is open for business.
Finishing touches were made yesterday to the $85,000 24-hour public toilet facility.
The project will improve after-hours service for bus patrons and is expected to be ready for use in time for Labour Weekend.
The toilet has been custom-made by Exeloo and the exterior designed to match the heritage qualities of the historic visitor centre building.
The design required pre-approval by the Historic Places Trust.
Rotorua Visitor Centre and i-Site manager Graham Brownrigg said the council was constantly improving the quality and range of services for visitors to the district.
"The new toilet will be appreciated, particularly by people on inter-regional buses, some of which arrive after-hours.
"We've already extended our opening hours to cater for as many buses as we can, but for those passengers who arrive before 7.30am or after 7pm this new toilet will provide extreme relief, to say the least.
"It's fantastic that the look of the new toilet complements our building aesthetically with the matching historic features. Most people won't even notice from the exterior that it's a brand new building."
The new facility is part of the council's strategy to improve public toilet facilities across the district and follows on from the recent opening of new toilet facilities at The Redwoods Forest and Visitor Centre.