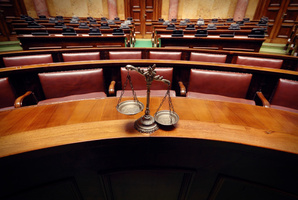 A second man has admitted his role in the aggravated robbery of two foreign tourists at the Waiotapu hot pools.
Blake John Lee, 19, pleaded guilty to aggravated robbery when he appeared in the Rotorua District Court yesterday.
Jade Raymond Mellow, 21, was sentenced in August for the same offence. Michael William Absolum, 33, is also charged with aggravated robbery but denies the charges.
On July 3 two tourists - a 20-year-old Swiss man and a 26-year-old Korean woman - were at the hot pools when they were set upon. They were stomped on and punched in an assault and possessions were stolen from their campervan. Items taken included a laptop, cash, and miscellaneous items worth more than $1000. Lee will be sentenced on December 20.